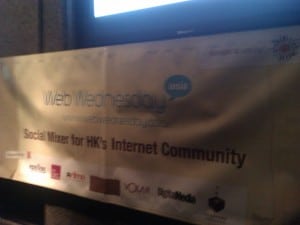 Came to Hong Kong last night to take care of some business meetings and finishing up the Hong Kong apartment deal, I ended up sticking around Hong Kong another day! Heading to Dongguan bright and early tomorrow morning (7am leaving Hong Kong) to visit the team there and discuss more ecommerce warehousing and fulfillment cooperations.
But by sticking around another day, I was able to attend my FIRST (after long wanting to attend) Hong Kong Web Wednesday! The topic was all about mobile apps! Below is the facebook event details for those curious readers:
Web Wednesday HK – Social Mixer V49.0: Battle of the Apps!

Time: Wednesday, July 20 · 6:30pm – 9:30pm
Location: Volar Cocktail Bar, 38-44 D'Aguilar Street, Lan Kwai Fong, Central. Hong Kong
Created By: Napoleon Biggs
For: Web Wednesday – Hong Kong

Event Details:
Calling all app entrepreneurs!

We're planning an open mike for you to introduce your app to the Hong Kong Digerati on 20th July at Volar Club, Lam Kwai Fong, Hong Kong.

You have 5 minutes to show off your app (videos preferred). At the end of the evening, we'll take votes from the audience. The most popular app will win great prizes and a full interview slot at an upcoming Web Wednesday with all the associated promotional benefits.

Do help me spread the word so that we can attract a wide range of contestants. All apps welcome, be they on iOS, Android, Blackberry, Windows, Chrome or Symbian (TV, tablet or smartphone).

As per usual, there's a HK$100 entrance fee, including one complimentary drink, a free talk, high-quality networking and the chance to win lucky draw prizes.

Our lovely assistant, Vivian, will issue receipts if you need one. (For students, you can get in for HK$50 without free booze). Thereafter, all standard drinks will be charged at special happy hour prices.

This month we continue to donate 10% of entrance fees to the Japanese Red Cross: http://www.jrc.or.jp/engli​sh/index.html

Looking forward to meeting many new faces and welcoming old friends,

Napoleon Biggs
Founder & Host – Web Wednesday
Head of Digital Integration, Fleishman-Hillard Communications Asia
I'm still amazed that after all these awesome startup meetings, competitions, and other awesome events in Hong Kong, there doesn't seem to be much press coverage and after-meeting summaries for those who didn't make it.
My notes here were quickly typed on my mobile phone during the event….(can you believe there wasn't any wifi in a WEB event?! as the bar was in the basement). So therefore I couldn't tweet realtime, and instead saved as an email draft and can now post returning back to my small little Hong Kong apartment:
In order they presented:
Campusfork – my friend Rayfil Wong who I have met from the awesome boot hong kong coworking spot that has inspired me and so many people. Rayfil has been a relentless and passionate entrepreneur on his startup campus fork – as he calls it the "hot or not for food" – and has recently launched an iphone app for his platform. He had a great muppet clip explaining the usefulness a boy taking a girl out on date would find the app as the girl would be craving crepes after a movie viewing….using his campus fork app to find nearby restaurants that sell crepes. Pretty nifty actually, using the food as a way to find the restaurant, not searching by the old fashioned "category" of food styles.
Chock qd (sounds like chop suey food ) , picture app, for cartoons adding to photo , can then share it on Facebook , like a slot machine matches hat, glasses , mustache , nose
How will it make money, can do on products or special via promotions
Lakoo mobile games, checkin app to show what game you are playing so other video game enthusiasts can see what you are playing, and find the hottest trending games.
Gigabud Nora from shenzhen writtenchinese.com wcc Chinese character to learn characters iPhone and android app, also wcc reader,

Smart WiFi blackberry app , s4bb limited, made 1300 apps so far 100,000 downloads per day. Number three blackbery developer by fortune magazine
Smart WiFi. Switches off when not needed 4.99 blackberry, 1.99 for Android
Steply photo sharing app , hoy here from steply , all about sharing photos , who shares photos who takes photos on their phone? Share photos Weibo
The underground hk create shows for bands in Hong Kong , underground events , Twitter undergronudhk for iPhone and iPad, Android coming soon
Sino restaurant app Coortouch interview mangers of restaurant in near future when u go to fine dining see trending food and learn what to order, go through the catalog . It's focus on fine dining. Can use remote control to keep waiter from touching your mobile device. Can also play video
Property app Savills Hong Kong , to search for rental or purchase properties in Hong Kong , also cab help you calculating mortgage
Wish I could have heard a bit better….it was jam packed! It was my first time there, but am told this was by far the biggest turnout ever.
Definitely think its because Mobile apps is such a hot topic and growing industry right now….seems like everyone is in it.