A couple months ago my friend Chris Moore sent over a podcast episode on I Love Marketing podcast that he felt would be perfect for me. It about managing and leveraging your contacts.
Judy Robinett was the one interviewed. She resonated with me about how to organize and strategically think about your relationships. Got me enough to buy her book and give it a listen (I got the audio book)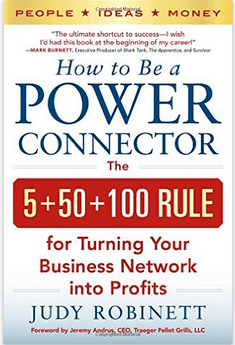 How to Be a Power Connector: The 5 + 50 + 100 Rule for Turning Your Business Network into Profits
I'll give some highlights and leave it up to you to dig into this book to maximize the value if you are a connector like me:
We're in a P2P economy – P 2 P is people to people, and in business, people don't do business with a company, but instead a person. Especially in B2B (business to business), the people in the company are everything. But even in today's consumer products – we want to connect with a person not with a big multinational company.
Make a list of your strategic contacts. Take all your contacts in your phone book, social media networks, email accounts and organize them.
Strong Links and Weak Links. Pretty self explanatory, but strong links are those contacts who you know well (she even has a system to determine that). "Weak" ones that you want to get to know more and build a stronger link (relationship) with.
Power Circle – 5 + 50 + 100. This is her awesome system that she also mentions on the I Love Marketing podcast. The top 5 are those you interact with daily. Key 50 bring significant value to your business that you need to keep up with weekly. Then there is the vital 100 who you want to touch base with at least once a month.
Network with people for who they are as a person (character), not just for their accomplishments. It might be tempting to network with famous people or powerful people. But if they have a bad attitude or a personality trait that you can't accept – don't try to make compromises. Character is the most important.
Screen people and don't refer people that you yourself wouldn't want to connect to.
Keep your network Diverse, deep, and robust. Don't focus too much on one industry or speciality, that you can learn a lot from people who may not seem to be relevant to you and your business.
Thanks Judy for making this book. I also keep thinking of it for Social Agent app that we are building up. To connect people, and maintain our relationships is the goal of the mobile app, and I hope to make the job of the connector easier!
We will release a new version of the app end of the month – stay posted!
In the mean time, read this book "How To Be A Power Connector"!