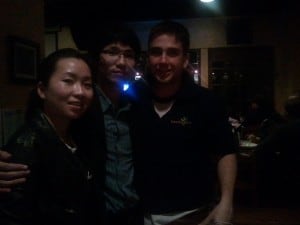 In a taxi ride back to the factory in the Chang An district of Dongguan, about a 45 minute drive from the city center I just spent my evening. My long term networking and openness in China has paid its dividends over time, and I have gotten to know I internet marketing friend more residing here in Dongguan – Slan (English name).
I met Slan in Xiamen, China earlier this year at the Search Engine Marketing China expo, where I had a booth and was a speaker. He has been selling online a few years, having grown up in Hubei China, and getting his college education in Chong Qing, Sichuan.
While I have been in touch with him via QQ instant messaging since the SEO expo, I have gotten even closer to him since he found out I would be on a project in Donggguan, where he currently has his company setup.
I invited him to visit the five islands ecommerce center for a second time, this time to have closer talks, and to meet the others behind the company, such as Gary Lam. Slan has been talking to me much more frequently the past couple weeks, as he is interested in working closer with me now that I'm in Dongguan, as well as helping me recruit local talent. As of right now, he wants to keep his own ecommerce projects and company going independently, but cooperate with me in certain ways.
Tonight we took a ride away from the factory and he showed me the city center of Dongguan. It has been my first time outside of the factory, normally I spend a few days here and then head back to Shenzhen, hong kong, or Philippines….but I figured I needed to get out and explore Dongguan a bit .
His wife works at a new Taiwanese owned interior design company in downtown, and we met her after our ride back from the factory. Having an Italian cappuccino, this was an Italian themed furniture and internior design company. They mentioned to me how rich mainland chinese are getting…I was looking at outgraeous price tags on such basic things as photo frames and lamps….but his wife was telling me its selling better and better…and this Taiwanese franchise is popping up all over china selling high end designer name brand furniture and trinkets.
Afterwards we headed down bar street, and he picked a famous local foregin bar – "One for the Road". So many foreigners, even Slan was surprised! Food wasn't too far off from being in America either….and after a few beers, hearts started opening up.
He was mentioning about the recent news of the Chinese government catching businessmen selling fake knockoff products, in the past I have blogged about how Chinese are tempted and almost forced into selling fake products as an answer to make money. And then there is the idea, in China, you can make money, but if you make too much, others will get jelous and turn you in. Seems this is becoming a big problem, as last night slan saw on the news 2 online ecommerce businessmen being put into jail for selling fake products online. They were sentenced to 6 years in jail, with reported sales of 5 million reminbi (approximately $750,000 usd) of sales of knock off replica products.
He, like many others, somewhat complained that the Chinese government is just now starting to crack down on this.
Really, I mean really, for the past few years, seems anyone could sell knock offs and almost seemed protected by the chinese government from foreign companies "catching them". Maybe now the Chinese government no longer feels it needs to allow these companies to exist, and is "turning their backs" on them. Whatever logic you want to put on it, selling fake products online from Chian seems to have run its course….Google adwords blocked them in 2009, google organic results filtered them middle of last year, now even the Chinese government is putting them in jail.
Slan tells me about his father being a farmer, in his poor province of Hubei. He mentions the meals they had at the lunch and dinner table, with not enough food to fill all their stomachs. How hard his father worked farming on such a small lot of land, with such limited resources. How hard he had to work in school to build a future for his family….the pressure from his farmer father in order to take his family line to a better life.
Then he commented on all the foreigners in China. Why were we here, us foreigners? To do business he said. He hopes I stay in China a long time, a lifetime. He explains he thinks opportunity now in China is the best in the world. That in less than 30 years all of this existed. Just a little more then 30 years ago, China was "nothing" and they had to scrabble over nothing, and suddenly this massive economy expanded exponentially.
Sure his English wasn't so good, this is my interpretation and expansion on his limited words we had in car drives, meeting talks, and beers….but this is from the heart. Seems people all over the world now will have equal opportunity to prove themselves, to build a better life. This may make it harder for those families who "by default" had it for being born into a family line, but I think this makes the world more fair.