As I scramble to make things clear and smooth before I depart on Thursday, as always, a few speedbumps come my way…..I get a call today from the real estate agent who I rented this location from, and he is speaking to me in Chinese (so I try my best, but have to pass the phone off to my friend, Raine) – turns out he is looking for a FEE – as he said he knows I am subletting my place out and that I have to pay him, threatening this and that. I hear the story from Raine…and I want to explode. Already I'm running around like a maniac these days packing, fixing, communicating what I need to….I don't need this extra stress…. So I am preparing for the fight….the new tenant moving in is already in the place, he calls me up as well. THINK MIKE, THINK. "how do I get myself out of this situation….."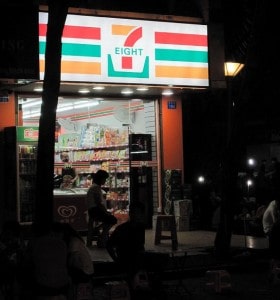 …..hmmm. Hold your breath, don't explode…….you can do it. Calling up other people who may know what is going on, Jojo tells me that the real estate agent also called her today, earlier in the morning. She acted like she had no idea what is going on, telling the agent that she no longer works at Shadstone and she isn't aware of anything going on. Guess thats why the agent came after me. Did a neighbor say something, nosy people probably did. Or jealous. Anyway, driving up (yea, Raine has a car, cool!) to the place, I gather information. I tell the new tenant this agent is trying to get cash out of me, maybe even him, and that to be aware of the situation. So then its clear, I already have a friendship with this tenant, I didn't want to sublet out to someone I didn't know. So its basically he is managing the office while I am traveling outside of the country. And, yes, that is what is happening. Its not a transfer of contracts or legal things – its a friend taking care of my office while I'm away.
Thats it, that is the Chinese way. Get things done. Raine told me not to worry, not to get stressed, and it would all work out. I guess this is my mistake when I first came to China…didn't leverage this relationship and way to use words to get it done.
I am attaching this photo Marshall from Shenzhen Standard News sent me. It is about 15 minutes from me here in Shenzhen. Its a COMPLETE knockoff of 7-11…..just 7-8 instead of 7-11.
JUST GET IT DONE, right. Amazing. …….look at the people hanging out around it, eating bbq , living life.
I put this in the same post as my subletting issue, because its based on relationships. Its based on people taking care of who they want to. I am sure there is a way to justify this is OK to do, that is different from 7-11 brand…but my god…so similar. Marshall and I were laughing about this one.
Another story is someone, I won't name names, was talking about opening a coffee shop, but had no idea how to run a coffee shop. Immediately, the idea is to have a friend get a job in a successful coffee shop, work there 1 year, learn how to operate the coffee shop and then leave to start their own…..
THIS IS WHY its so hard to run a service business. I mean, sure this happens everywhere in the world. But it seems like a way of life in China. Learn, get paid, leave after you have learned all you can learn. But its PRACTICAL. And that is China – practical, process oriented, get it done, don't think about emotions – its business.
Anyway, sharing some reflections and thoughts for today…another day in China.