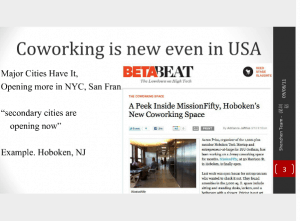 Had been back in Shenzhen only a few days, but needed to come up with a presentation for Startup Tuesday. What better than to review the USA coworking and startup groups I met while on my travels! (slides here)
Trip To America! USA coworking spots
Startups Shenzhen
…. Bringing Together Shenzhen's Startup Community!
Today's Agenda
Intro – Round the room, name, industry, fave food.
Startup scene in America
Went to a city, Googled " [city name] coworking "
Mission Fifty
Loosecubes
New Work City
Rally non profit coworking in San Francisco
Startup Weekend meeting Shenzhen nov 11 – 13
This Saturday, Hong Kong's startup saturday
Coworking is new even in USA Major Cities Have It
Opening more in NYC, San Fran. " secondary cities are opening now "
Example. Hoboken, NJ
I explained how coworking is new even in America still, big cities have it, but now its growing into secondary and surrounding cities around large cities. And big cities are opening multiple spaces.
Was able to visit Hoboken, NJ's Mission fifty coworking space as well as see Tony over in New York City's "New Work City" Really cool to say you can work and network all around the world utilizing these independent spaces of freelances and startups. Exhilarating.
Coworking Directories
Book office space anywhere, anytime. Like an airbnb for office space.
Loosecubes – in Brooklyn I was able to visit, they are a startup connecting excess offspace to those who need flexible workspace in that cities.
Rent out extra office space, " couchsurfing " for office space
So for example, if an "normal office" has some open and un-utilized desks, they can list them on loosecubes and when there are individuals who want to use the space they can book it online via loosecubes and the space is rented out to that person for the agreed time (normally a daily rate)
Again, I love this idea, its the idea of flexible work, flexible living, globally.
Even coworking spaces for various groups
Industries and causes are coming together forming coworking spaces. For example, one I went to in San Francisco and found Rallypad when visiting Startups Weekend – this coworking space is only available for those who are working for non-profit organizations. They had all kinds of information about different "rallys" in America.
RallyPad
144 2nd Street
Lower Level btwn Mission & Howard
San Francisco, CA 94105
(888) 648-2220 Rally, San Francisco
It also made me think of #OccupyWallStreet and how these coworking spaces can help organically form groups to disrupt established businesses and industries. Its another extension of social media, except in the real, physical sense of office space!
This Rally! space even had a chef on site, with meal plans for the coworking members who wanted to participate! That is high class!
Official StartupWeekend Nov 11
While in San Francisco I was able to confirm Shenzhen's first startup weekend, shenzhen.startupweekend.org
Fri Nov 11- to Nov 13
Similar to the bootup! Shenzhen event we had, except this is branded with the "Startup Weekend" crew. Again, build a startup in a weekend! Come on a friday night, make a team of 3-4 people, work over the weekend, pitches Sunday night to a panel of judges
Recap
So it was good to show the photos and stories from the coworking spaces I had visited. China will get there, seeing it happening in front of my eyes.