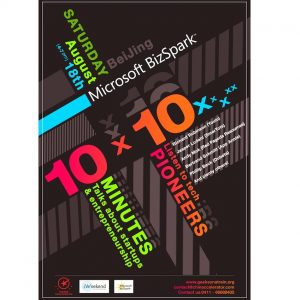 Trying the weekly blog post while I'm working like a madman in the Chinaccelerator. Sunday evening in the office, preparing for the week ahead. Have a few days here in Dalian, China and then we are going on "Geeks on a train!"
What is geeks on a train? Geeks on a train is the Chinese version "Geeks on a plane", haha. Basically its a trip where a bunch of us startup incubator teams go from Dalian to Beijing, do startup meetings, mentor connections, investor handshakes, hop on another train to Shanghai, repeat above, and then head back to Dalian.
So whats the basic schedule? I've been Weibo-ing and chatting to friends in both Beijing and Shanghai, and here is my limited knowledge of the schedule. Pretty jam packed, hope to get some meetings in with other companies in the cities:
Beijing – Friday Aug 17 to Tues Aug 21
Thu, August 16, 9:30pm – Fri, August 17, 7:00am – Overnight Train to Beijing
Sat, Aug 18 – 10 x 10 Beijing – iWeekend and Chinaaccelerator jointly present 10 x 10 (Ten by Ten) – a unique event for entrepreneurs and the start up community in Beijing. 10 x 10 Beijing is a great opportunity to learn more about tech start ups in China and meet industry players. Covered by Technode as below:
The agenda comprises of ten speakers, from experienced entrepreneurs to active investors, who will bring to you different topics that cover a wide spectrum on Start-ups in China or entrepreneurship in general. The talks are followed by a networking session. Come for the great tips and insight from those who know how and an opportunity to network with like-minded people who share your passion.

Date: Saturday August 18, 2012

Time: Talk starts at 4pm, registration at 3:30pm.

Location: 3rd Floor, Microsoft Tower, LSH Plaza, 8 Wangjing Street, Chaoyang District, Beijing /

北京市朝阳区望京路8号利星行广场微软大厦3楼

Admission Fee: This event is FREE of charge.

Language: The event will be held in English

Registration: Entry is limited to 120 people and will be on a first come first serve basis, so please register now to reserve your place!!

Some Confirmed Speakers include (in alphabetical order by last name):

Phillip Beck, Chairman at Dubeta
Jesper Lodahl, CEO & Co-Founder at SmarTots
Mikko Puhakka, Board member at China Open Source Base
Richard Robinson, Co-Founder and President at Youlu Co.
Bertrand Schmitt, CEO at App Annie
And many more!
Tue, August 21, 3pm – 7pm – Mentor Meetups – LAST CHANCE IN BEIJING
Shanghai – Tues Aug 21 to Sat Aug 25
Tuesday Aug 21, night – travel to Shanghai
Friday Aug 24 – 10 x 10 Shanghai, like the one in Beijing, but down in Shanghai with a new crew of speakers, mentors, investors, and fun stuff. From http://10x10shanghai2012.eventbrite.com Below is the agenda.
Chinaccelerator and e8 Resources, in cooperation with Haworth, are once again hosting the annual 10X10 Shanghai in August, 2012.

 

The Geeks on a Train tour will take the Chinaccelerator startups on a ride from Dalian to Shanghai through Beijing this August!

 

As part of the tour, the 10×10 conference is bringing you 10 tech pioneers on stage. This is an amazing opportunity for you to have a peek at the first startup accelerator program in China, meet interesting people and listen to amazing speakers.

 

Each of them will take you on a 10-minute tour through their experiences and failures, then give you some great advice and maybe a secret or two about what they changed and learned to help make them the superstars they are today.

 

Afterwards will be a networking event for all geeks!

 

Confirmed speakers are:

– Warren Ching, 51intern

– Oscar Ramos, DaD Asia

– Mikaal Abdulla, 8securities

– David Li, Xinchejian

– Brian Xin, Starry Media

And more to come!

 

What's going on?




13:30-14:00: Registration

14:00-16:00: Stage is on fire

16:00-17:00: Networking
Friday Aug 24 – finish GOAT, free time to party.
Sat Aug 25 all-day – mentor meetups.
Sat Aug 25 night – Fly back to Dalian from Shanghai, China
Sun Aug 26 – full day wrap up with the Weibo Agent team
I'm really overwhelmed right now…this has been an amazing incubator, and this geeks on a train will allow what we have been building the past couple weeks (as well as the time before the incubator) and show it to real mentors, investors, and business associates.
Lets bring it! Make it happen!