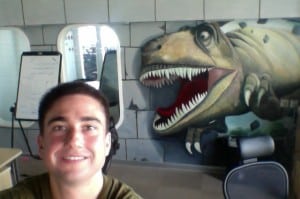 Have had my head down and been working like a maniac this week. Exciting, and maybe upsetting some people who seem to have been used to me doing free events – but I have no regrets at all for enrolling in this startup incubator! The value only a few days in has been amazing.
My assistant Amy, and some others have maybe warned me to not bog too much about what is going on inside the "startup dungeon" – as there have been some discussions of confidentiality and respecting the other team's privacy – but I will speak more on my own experience and team and allow those other team's to have their privacy (maybe they can pay me to promote them, haha).
Doug (IT co-founder) and I flew up on Monday afternoon from Shenzhen…one of the worst airline experiences I've had in a while… 6 hour delay….passengers refusing to get onto the connecting flight in Nanchang city airport until they wre compensated for the delays, and then finally arriving to Dalian airport at about 2am on Monday night / Tuesday morning. We were supposed to sign the lease for the apartment monday, but due to this delay, had to rent a hotel that night and move ito the apartment on Tuesday. Rented a no-frills apartment in the outskirts of town (near the facility in IT park), but my main criteria was to be walking distance to the facility so that I can work like the maniac that I am.
The program started on Wed Aug 1, and teams were coming in Tuesday and Wednesday – 10 teams (startup companies) are here – and to respect their privacy I won't disclose their ideas and team members. We prepared the power point below. We have 4 people for our startup, Weibo Agent, Doug for IT, Gabree for Operations, Amy our loyal assistant and account agent (my rel life Weibo Agent), and me on marketing and business development.
Weibo agent slides from mikemichelini
So Wednesday was heavy on "getting to know each other", we also got into practicing our elevator pitches, advice on selecting advisors and mentors, and more information about the program structure and schedule.
We will be here until Demo Day on Oct 31 – which is in Beijing.
We are going to GEEKS ON A TRAIN, Aug 16 to 20, from here to Beijing and Shanghai. Really exciting news!
Thursday things were mostly in the office working, getting to know the teams, setting up the desks. I think another awesome thing about this program is the other awesome people in the program as well – its a wide range of backgrounds, both Chinese and foreigners from Europe, north america, Southeast asia. technical and marketing. We have been sharing skype user names, weixin, making group chats, wikis to share resources and ideas. I'm sure even after the program these relationships will help us greatly.
And we have been going through the mentor directory, selecting which mentors we'd like to talk to, and what kind of help we can ask of them. I've already interacted with a few, and they really respect you when you say you're in this program – it pre-qualifies you as someone who is really serious about their business and taking their startup to the next level.
Friday night (last night) we had some fun and attended the Dalian Beer Fest – getting out of the office environment with the other startups helped us bond a bit and break down some of those "getting to know you barriers"
So I'm typing this 4pm on a Saturday from the chinaccelerator office, and there are other entrepreneurs here working away as well – that is what I want, a positive environment of other hard working people to motivate me and challenge me.
Others have been saying they feel like they are in school. I guess I miss this structure. Also having others to compare with and watch their progress versus yours motivates you to work even harder.
I'll keep you posted, here are some photos of the office and apartment I rented.