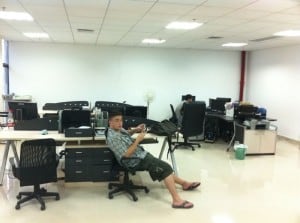 Back to Shenzhen, and BACK TO BUSINESS! No messing around. Caught up with work in the morning / afternoon, meetups, and then Chris Gormley and I went over to check on the developments in the Shenzhen coworking. Met with Gareth and Jun, the guys who've been setting up the new location while I've been away….and they are READY to open!
For those of you following me here, all of 2011 has been leading up to this…. brainstorming shenzhen coworking, to finding Gareth and testing coworking in High Tech park, to deciding my personal strength is centered all around this idea of community building, tech, China, internet…..enjoying shenzhen meetups….and this blog reflections have really helped me put it all together.
So this afternoon I checked out the place (happened so quick, they rented it while I was away…I did get to see some of it on Skype video though!) and then we took a trip out to Ikea to get some new furniture for the hot desks.
Anyway, enough of the reflection and rambling…..here is the details on this new space Gareth and Jun just setup:
Where is it? South part of Nanshan High Tech Park. Take the Shenzhen Metro to stop Ke Yuan on the Shekou line – address is 深圳市南山区高新区南区粤兴三道6号南京大学深圳产学研基地大楼B区502号, come out of Exit D at 科苑 metro and it's the building on your left.
Venue Size: 258 square meter office at the 南京大学 building next to 科苑地铁站
How many spots? : 20 fixed spaces , 24 hot desks
How much? 1,200 rmb per month for fixed desks, 500 rmb month for hot desks, 60 rmb/ day for daily rate
We'll be calling it sz team (Sz short for Shenzhen) and team for group collaboration. Already been posting that around, and getting the word out.
I'm SO EXCITED….this will be a great base for meetups, cross promotions with boot hk hong kong (they also just opened a 2nd space called Hong Kong Commons) as well as the guys at tropical MBA….. doing some rockstar group with masterminds of entrepreneurs rushing into Asia from all over the world to build businesses and find opportunities
Also can use this venue as a springboard for Shenzhen versions of startup mondays, web wednesdays, and hackerspaces, other cool meetups that I've been attending in 2011 while in Hong Kong.
Shenzhen is developing so quickly…its amazing this hasn't been established yet…..but the time has come and this has to become a reality! stay tuned….thinking mid next week for a launch evening….