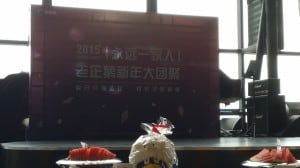 While many of us in the Western world are well into the new year of 2015, in China we are still finishing up the end of this lunar calendar year and Chinese New Year will be at the end of February. So just like company parties for Christmas and New Years, companies in China have their celebrations at the end of the year and prepare for the new year.
I was able to be invited as a guest to a Tencent party, third party app developers and innovation, last Saturday Jan, 24, 2015 to share on my experience with startups and events and startup weekend. I was excited to be the only non-local Chinese at the 300 plus person event.
A Perk of Being in Shenzhen: It's Tencent's Headquarters
For those of you wondering who Tencent is, it is one of the biggest internet companies in China. It became famous from its QQ messenger (Like ICQ and AOL Instant Messenger) and made tons of money from it by selling virtual goods and games on top of it. Maybe you never heard of or used QQ, but I am sure you have heard of their popular chat app, Wechat, that is getting pretty popular outside of China. The company started in a dorm room at Shenzhen University, and while now they have offices around China, they still keep their headquarters in Shenzhen.
So it is something that the city is very proud of. And for me, it was an unexpected benefit of my choosing to live here years ago. I had no clue who they were back in 2007 when deciding which city in Chin to live. But now as they become maybe the top internet company in China, I'd say its a battle between Alibaba and Tencent for the top spot, internet companies from around China come to Shenzhen to visit Tencent Headquarters.
Over the years I've build my relationship with Tencent at various events, hosting startup weekend there, and doing some consulting with them on Western marketing tactics. My best relationship is in the QQ open platform department, where I know quite a few of them well.
A Chinese New Year Party on a Saturday Afternoon
The event had a very interesting feel, in a nightclub in Coastal City, Shenzhen. It was a room full of third party app developers and startups, and they had screens around the club showing famous Chinese business people congratulating everyone for a great year and wishing them fortune in the new year.
There was a series of speakers, but in addition to speakers, they had dancers and singers and a fashion show in between speaking sessions. I was served a drink and couldn't tell if it had alcohol or not, some of the drinks were juice boxes, but then some in the glasses I swear seemed to have vodka. Just going with the flow.
I Shared About Community Needs Others To Help One Another
As I know China is overly excited to grow its innovation and technology base, I thought it would be fitting to share a little bit about how a community is key. That having an open communication between others in various "competing" companies to support the overall ecosystem is critical to foster innovation.
It was only a ten minute time slot, I tried to jam in as much value as possible. When they called me up, the MC didn't know I was a foreigner (the agenda only had my Chinese name and Chinese introduction, no English anywhere) so he was surprised when I stepped up on stage.
I did my introduction in Chinese, not too deep but I had it written down to say "Hello everyone, my name is Mai Li Ni, I am from America, I do ecommerce and mobile apps and help with startups, I have been in China for seven years and am in Shenzhen now. If you need help with finding USA relationships, please let me know". I spoke slowly, the MC was worried people didn't understand but they could, it seems from the feedback I got. Win! But the rest of my talk I had to do in English. Slowly I'll improve. This year I am serious about learning Chinese and doing affirmations every morning to bake it into my subconscious.
Met More Tencent People – like the Tencent CTO!
I was able to meet Tony, (ZHANG Zhidong) the CTO of Tencent and was able to take a photo with him at the event. He was the main speaker and had people in the audience lining up to take a photo with him. He is also an active angel investor now so people can't wait to pass him their business plan.
Here is a quick bio I found from the Tencent Management page
ZHANG, Zhidong (Tony Zhang) Core Founder, Advisor Emeritus & Honorary Dean Of Tencent Academy. Tony Zhang, a Core Founder of Tencent and served as Chief Technology Officer since November 1998, became the Advisor Emeritus of the Company and Honorary Dean Of Tencent Academy in September 2014. As Chief Technology Officer, Tony oversaw the development of the Company's proprietary technologies, built and led an industry-leading technical team at Tencent. Tony received his Bachelor of Science degree in Computer Science from Shenzhen University in 1993 and a Master of Science degree in Computer Application and System Structure from South China University of Technology in 1996.
I also met my core friends Hellena, below, who is in charge of the QQ open platform. And others I didn't have a chance to get pictures with many other friends, so sorry to those who may read this and don't see I noticed them no offense intended!
I'm Glad I Could Attend, It's All About Relationships
I know anyone who reads a book about China business hears the word "guanxi" which means relationships. I kind of get annoyed by it because it has both positive and negative connotations, and I believe everywhere in the world relationships are important.