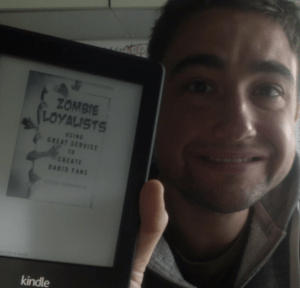 Just finished reading the new book by Peter Shankman, "Zombie Loyalists". I'm so excited I devoured the book as soon as it was released a couple weeks ago, and just finished it over the weekend.
I listened to Peter speak as keynote at a DCBKK in 2013 (Dynamite Circle mastermind conference and he really moved me at that speech, discussing how "There is Serious Business in Being Nice" (I have some highlights on a blog post from my DCBKK experience. I guess that is when he "bit me" and I became one of his Zombie Loyalists.
I am always excited and inspired to learn there are ways that you can make money being nice. There is always that horrible saying "nice guys finish last" and I have been told that a few times which is what I believe is bad advice, and then the really annoying saying "dog eat dog world" which means basically fight for yourself and don't take care of others, that everyone is out to get you.
So I am a zombie loyalist because I really want to believe and make true the fact that nice people can make a lot of money in business! So let's make it true together!
First Book I've Ever Pre-Ordered
I was foaming at the bit with the release of the book, I actually got the alert from his HARO (Help a Reporter Out) newsletter that I could pre-order the new book on Zombie Loyalists website and I quickly clicked the link and pre-ordered on Kindle.
That is just another amazing thing, I live on the other side of the world, over here in China, and I am able to get access to amazing books and information at the same time as everyone else due to the internet and Kindle. I love my Kindle Paperwhite!
I got the email alert that the book was released on Jan 24, 2015 and quickly synced it up on my Kindle to read as part of my new habit to read each morning and evening.
New Social Economy – Customer Service is New PR & Marketing
The book is titled "Zombie Loyalists" which may sound like a horror movie of some sort, but it's really about getting the general public to covert to be your raving fans and promote your product or service for you.
A quote from the book that really hit home for me is "It's not about you, it's about your customers", which seems a bit obvious but a lot of people forget. We are in business because we serve a market, a user who has a problem and you have the solution that will solve it.
Peter explains that it's the new social economy, that customer service is replacing public relations, marketing, and sales. To succeed in today's social media world – where everyone has a twitter and Facebook account, we cannot fear that people will say something bad, but rather we must leverage it to promote the business.
And I know some may wonder why someone would share a good experience with a business online – as it seems mostly when people share about a business it is about a bad experience, but Peter explains it as your top fans will want to help people FIND the right solution. I'm sure we've all seen friends asking on social media what is a good product or service – you'll see those top fans (zombie loyalists) raving about something, That is the social economy.
Starts With Your Staff
I don't want to give away too much of the book – but he explains it is company culture, that all staff willing to jump in to help with anything when needed. Build a breeding ground right inside your own company staff first, before you get any customers to convert to zombies.
To empower staff to make decisions and keep clients happy. We should all know it is cheaper/easier to keep a current customer than it is to find a new one. So let your staff do that1
And that the best Word of Mouth Employee pride, where the staff love where they work and share that with the world.
Zombies Eat Brains, BRAINS
My favorite part of the whole book comes towards the end where Peter connects everything discussing the acronym BRAINS – Bring Random Amazement into Normal Situations. That we as a business owner and our staff must randomly help people and thank people. And not just our top customers, but any customer at any stage. And this will create brains, and zombies eat brains.
Pretty gruesome picture in my head, but I like the concept and it is definitely something that is hard for me to forget. He goes through tons of case studies and examples on how to do it in your own company.
Read The Book
This is a book I feel extremely confident to recommend to any business owner in today's social media world – in the social economy. It's both and print and Kindle, and you can check it out on Peter's book website at Zombie Loyalists
I'm a zombie loyalist, and I'm converting more right now with this blog post. Powerful stuff, and I hope I can create the same in my businesses.