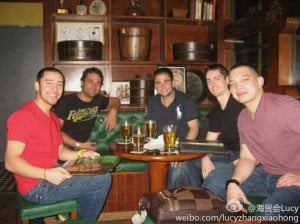 Foreigners come to China for the first time normally based around a trade show. I took my first trip to China in 2007 to attend trade shows. I ended up only going to Hong Kong, Shenzhen, and Shanghai trade fairs – not making it to Canton Fair that year (I didn't realize how complicated it would be for me to get all around China in a 1 month timetable). But Canton fair is one of the most famous trade shows in China, maybe even the world – attracting factories from all over China, and foreigners from all parts of the world.
Since blogging, I have gotten tons of emails and comments about meeting me up in the Canton fair, and this blog post about visiting the Canton Fair got tons of attention too.
This year, I'm making a last minute trip to Guangzhou with some of the "crew" from Hero Meets Hero e-commerce here in Shenzhen to network with other foreigners traveling to China for the Canton Fair.
I've been in touch with a few of them and excited to meetup – I should have blogged this openly earlier, but its better late than never.
I'll be inviting a ton of people tomorrow while I'm walking in the Canton fair, this bar is 10 minutes taxi from the fair, so hopefully won't be difficult for people to find:
What: Canton Fair informal meetup

When: Monday April 16, 2012

What time: starts around 7pm, I should be there earlier.

Cost: Free, just buy your own food / drinks.

Where: Hooleys Irish Pub, right across the river from canton fair. 10 minute taxi
Hooley's Irish pub and restaurant,
101, 8 Xing Sheng Lu,
Zhujiang New Town,
Guangzhou,
tel: (020) 3886 2675

We are conveniently located in the heart of Zhujiang New Town in close proximity to the major hotels in the area including "The W", "The Jumeirah" and "The Ritz-Carlton" on Xing Sheng Lu.

The closest Metro stop is only a 5 min walk away at Liede Metro (Exit D).
http://www.hooleys-pub.com/

Why: Just get a few people together to have some fun, network. I wish there were these kind of meetups when I was first coming to China!
I'll be updating this blog post after the meetup as well with photos.
Tuesday April 16, 2012 After the meetup
We had about 10 – 12 people came out, good mix of Chinese and foreigners. Some couldn't find the place, some good food poisoning, and some were commuting between the fair and other cities and couldn't make it.
But it was cool to get together some of my friends and those who have found this blog to meetup face to face. Talking about e-commerce, sourcing from China.
We may do another one next Wednesday for Phase 2 – but these are pretty exhausting.