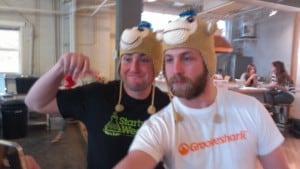 Saturday afternoon typing from my desk at Chaihuo makerspace in Shenzhen, China. Totally buried in emails, chats, notepads, namecards surrounding me. I FREAKIN' love it! – as much as I get stressed, jet lagged, overwhelmed, emotional….I just love this hyper-active traveling and international business.
This USA trip was a defining one for me. Really a bridge, meeting blog readers on the fly in different cities. Making deals, making connections. Let me go through all the points.
I love blogging, so that I can reduce the amount of times I have to repeat my stories and my travels. Already only a couple days back in China and I have gone through these stories a ton of times. So here goes:
Los Angeles (Wed May 9 to Sun May 13)
Arriving Wednesday evening, my buddy Attila there to pick me up at the airport. He saw my USA trip and wanted to join me, so awesome! He signed up for Seattle startupweekend too and was figuring out his flight from LA to Seattle later on. Wednesday night meet my friend Sean (he spent a year in Shenzhen, China teaching english and inspired me to move there) – late dinner and stayed over his house.
Thursday met Dennis from allrecipes for lunch, talked China business and internet. Rushed to Hollywood studios for a Money + Music radio broadcast! Met the awesome radio show hosts Victoria and Walt, awesome Singer Di Lee, and many other passionate entreprenuers on the show that day.
Friday visited Yvonne, a Chinese born, moved to USA in high school, SEO / Social media enthusiast (just met her on twitter the day before!) and talked about English and Chinese social media. She and her husband have a great art studio for their business in San Gabriel we can use for future events. Friday afternoon swung through Seal Beach and then met the Money & Music radio broadcast crew and had a nice dinner and jazz evening.
Saturday was a bit stressful in the morning, making last minute arrangement for the afternoons China Business meet up in LA that I put together in 2 weeks notice. Lucky as heck to have found a venue, Erik Severin's friend Vincent I had met in Hong Kong once. Met a good group of about 15 people interested in continuing to bridge and network China and USA business and e-commerce. Hope to hold another meet up later in the year, bringing the Hero Meets Hero Chinese e-commerce executives along with me from China! That will be a trip. Saturday night back to Sean's house for a birthday bash.
Woke up Sunday morning early for a road trip, heading up to San Francisco via Attila's car, to take a road trip. He had decided to drive up rather than take a flight (he was a participating in the weekend) ROADTRIP!
San Francisco (Sun May 13 to Wed May 16)
Heading up to SF via the 101 PCH (pacific coast highway) Attila and I left about 8am from Los Angeles. Stopping by scenic view of beaches and piers, wineries for free samples, and an awesome steakhouse (recommended via twitter) we arrived to San Francisco later that night.
Checking in to holiday inn express, we met Boyd Jones, a VC friend of mine who is currently re-locating to Silicon valley from Shenzhen, China. He was showing his Chinese counterparts around Silicon valley and also just returned w/ them from Warren Buffet's annual shareholder meeting in Nebraska. He is in an interesting position to better connect Chinese and American VCs and I am honored to be so close to him.
I also connected with Tony Chen, a Hong Kong UC berkley programmer interning with Y Combinator startup Ark.com – he came to meet Attila, boyd, and I as well.
Monday Attila and I met up with Ahmed, who is the San Francisco facilitator of Startup Weekend. It was cool to re-connect with him after my meeting him last fall on my USA trip. He has a new guy starting with him, Andy. I also met tons of other startups there and coworking spaces. Funny coincidence to meet Holly Mac, who I have known from time in San Diego back in 2007!
Tuesday I met a blog reader, Kat, who is the founder and lead designer of Modern Twist, for coffee at her favorite place. We chatted about her experiences buying from China and importing into China, and hopefully can work together in the future, when she visits China again in July. She also recommended I get a new bag, Timbuk2 and we did a bit of shopping around
Tuesday afternoon worked in the Startupweekend SF office, getting as much face time as I could. It was Ahmed's birthday! Took a bus to fisherman's wharf for a quick tweet up at In-And-out burger, meeting my Hong Kong startup friend and other people I have been tweeting with for years! The power of social media still amazes me.
Wednesday woke up early again for a full day driving to Seattle (15 hours per the GPS)
Seattle (Wed May 16 to Tues May 22)
Arriving to Seattle about 11pm, Attila and I couchsurfed at a startup weekend staff's place, Steve, and he took good care of us.
Thursday spent the day in startup weekend's headquarters getting much needed FaceTime with the team. Was really amazing stuff! Out for drinks and bonding Thursday night, also meeting Dennis from allrecipes again too.
Friday discussed Startupweekend's progress in China, how the USA headquarters can help support the China organizers in expanding and managing better. And then the rest of the day preparing for the Seattle startupweekend, where I was facilitating. Took a quick coffee break to meet Joyce from allrecipes as well, and walked around Pike Place tourist attraction.
Friday night felt a bit of pressure, as Keith describes in his blog I had 2 of the 3 co-founders watching me MC on Friday night, I had to make sure I knew what I was talking about. Seemed to pull it off, and the pitchfire was amazing. It was fun to watch and compare the startup and entrepreneur community I knew in China versus what I was experiencing here in Seattle.
The rest of the weekend was an intense startup weekend, comparing over and over again to what I knew from China and Hong kong startup weekends, as 130 entrepreneurs in Seattle rocked the weekend.
Sunday pitch night and then networking and drinks together.
Monday was the last full day in USA, visiting Bruce Lee's grave and then a tour of SEOmoz. Monday afternoon back to Startup Weekend HQ with cocktail hour with the Microsoft Bizspark team. Lots of nice name card trading there!
Last night in USA, hung out with Attila, discussing our 2 weeks on the road together, the networking and teambuilding. We both knew this was a monumental trip. He will be living in SF starting in June based on this trip!
Wednesday morning a quick coffee with Adam Phillips an IP lawyer and then off to the airport. Attila dropped me off, and then he continued his roadtrip to Idaho. A bit emotional goodbye on my side, we had been through a lot those 2 weeks.
Hong Kong (Wed May 23)
Arriving in Hong Kong airport at about 11pm, Andre Martin let me stay in his spare bedroom (via twitter). Getting to his north point MTR stop, we met in McDonalds and talked entrepreneurship and startups, and he was so happy to get a Startup Weekend book, he asked me to sign it! (wow, feel honored!) Went to sleep about 2am.
Macau (Thurs May 24)
Waking up 7:15am on Thursday morning at Andre's, I rushed off via taxi to Sheung Wan to the Macau Ferry terminal. Huge line in customs at Macau, I finally arrived at about 11am to the Venetian hotel & casino just in time to talk to the other speakers about the 12 noon speech on Chinese social Media.
Completely exhausted, I somehow gave as good of insights as I could to the audience of casino owners and gamer operators. Keeping it real, chinese and english social media has really taken me this far, so speaking about it has been a piece of cake.
Walked around the G2E Asia expo floor for a bit, talking SEO with Jonathan from Hong Kong, I had to part ways at around 4pm and get back on the ferry from Macau to Shenzhen, China.
So there you have it, this is for my record as much as it is for you reading this blog. Its been a crazy couple weeks, and social media has made it so much more interactive and fun literally meeting people along the way, getting input on places to go and eat, suggestions for tours, landmarks, business meetings. Its truly a social media trip.