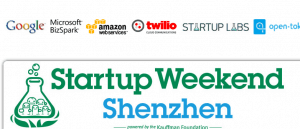 1:30am here and I'm forcing myself to get this blog out before crashing. "I got the fever"…startup fever. And though many of my "trusted mentors and advisors" have tried to slow down my "NGO" work before I starve (haha, yes in a way some have said it to me this directly) but I do have a passion for connecting and for creating these opportunities.
This will be my 4th "startup weekend" (2nd official, 2 local "bootUP" brands) having attended a Hong kong bootup in Feb 2011, then organizing a "quick + dirty" Shenzhen Bootup in August last summer, and then finally getting the Startup weekend official brand last November 2011
This one around, its still about 1 month away and we're getting signups and applications already! The previous weekends were organized with only 2-3 weeks notice…so we are expecting around 80 to 100 people.
The craziest part is we still have not 100% confirmed the location. We were talking to Shenzhen Maker Fair as they happen to have their product trade fair the same weekend, and thought the space in Shekou seaworld square would be provided by China Merchants group, but then that was switched over to 518 creative space in Bao An….and we feel its too far. Discussing with Mihran, founder of Dianboom.com about an e-commerce center in Futian.
I'm not worried, we will find an awesome place. Shenzhen is supportive of entrepreneurship and creativity…and life always works itself out.
so….
REGISTER + GET MOST UP TO DATE INFORMATION
shenzhen .startupweekend .org/
Below is the information about what a startup weekend info I've been blasting out on website and google groups and emails:
Dear friends + local business associates in Shenzhen,

We're already getting flooded w/ applications!

We've back at it – Shenzhen startup weekend is coming April 6-8 – i'm emailing friends who I think would be interested / able to get involved:

If you're interested in:

sponsoring – venue, food, snacks, gift boxes, prizes, beer!
mentoring – checking in during the weekend on the startup teams, giving feedback
volunteering – helping with door checkin, translation, marketing
judge – if you feel you're a "simon" who can help us pick the winning startup Sunday night.

Let me know! I'm CC'ing our organizing team and BCC'ing those I think may be interested.

no pressure, its gonna be fun and would love for you to be involved!

– Mike

What is a Startup Weekend?

Startup Weekends are 54-hour events where developers, designers, marketers, product managers and startup enthusiasts come together to share ideas, form teams, build products, and launch startups!

Startup Weekends are weekend-long, hands-on experiences where entrepreneurs and aspiring entrepreneurs can find out if startup ideas are viable. On average, half of Startup Weekend's attendees have technical backgrounds, the other half have business backgrounds.

Beginning with open mic pitches on Friday, attendees are encouraged to bring their best ideas and inspire others to join their team. Over Saturday and Sunday teams design and develop business plans while constantly streamlining their startup vision. On Sunday evening teams demo their prototypes, listen to judges' feedback and in some cities, win prizes.

Startup Weekends are specifically designed for entrepreneurs interested in receiving feedback on an idea, looking for a co-founder, or who want to learn a new skill. We also welcome anyone looking to test the entrepreneurial waters. Startup Weekends are risk-free environments where everyone is expected to roll up their sleeves and dive into the exhilarating world of startups.

Weekend Agenda

Friday April 6th, 2012

17:00 – 19:00: Registration & Networking
19:00 – 19:30: Welcome
19:30 – 21:00: Pitch your idea!
21:00 – 21:30: Vote on ideas
21:30 – 22:30: Form teams
22:30+ :Go home

Saturday (April 7th, 2012)

9:00 – 9:30: Breakfast
9:30 – 12:00: Work on idea, Progress check point #1
12:00 – 13:00: Lunch
13:00 – 18:30: Work on idea, Progress check point #2
18:30 – 19:30: Working dinner
19:30 – 22:30: Work on idea, Progress check point #3
22:30+: Go home

Sunday (April 8th, 2012)

9:00 – 9:30: Breakfast
9:30 – 12:00: Work on idea, Progress check point
12:00 – 13:00: Lunch
13:00 – 17:00: Work on idea , Progress check point #5
17:00 – 18:00: Prepare for presentation & Room Clean-up
18:00 – 20:00: Presentation
20:00+: Judging and Awards, Dinner, Networking
I'm really happy about our Shenzhen startupweekend team! Its a great balanced team….my crazy "scatter brained" ADD personality self, with 3 other awesome guys:
HUGE SHOUTOUT to them:
Teambuilding I have learned is the most important thing….
Also, look at this awesome introduction the Shenzhen organizing team made: