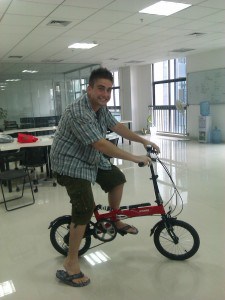 Didn't think I would come to blog about this, but its been a hot topic on my posts in facebook, twitter, and weibo….guess talking about bikes and personal life is more engaging to people then business posts! People wanna see more pics of it (folded), more size details, cost, that I'm riding it inside the new shenzhen coworking space. Here are some from facebook (since its the easiest one for me to copy/paste and its hidden to public normally):
got a new folding bike…..petite but urban-useful. (hope it doesnt get stolen like the last one)
Added 23 hours ago

Jocelyn Peng, Gene Soo, Ed Chok and 22 others like this.

Jacob Hsu I think the thief don't dare to steal it from your office, lol

Michael Michelini this is one reason why i got a folding one! Guards let me take it upstairs

Jacob Hsu u should pay more attention to your belongings when u in China, some guy broke in my house and steal my computer last year.

Louie Lopez Fong is it the Dahon one? how much? I used to have one but gave it away, wanna get one again!

Michael Michelini its an Oyama 6 speed, got it at Decathon for 999yuan

Louie Lopez Fong do they also sell the nice retro chinese bikes..

Michael Michelini hahaha, maybe at a second hand shop, or a stolen underground one where my stolen was probably ended up 😉

Louie Lopez Fong haha its new though, the site i sent you was thier website, super cheap retro bikes..

Lunie Rahj hey mike, you can just fold it and bring it along with you, thief cant steal it. =)

Mark Ambrose LOL infected with folderitis! welcome to the support group! i'll invite you to the 'tiklop' group…it means 'folding' in filipino..

Des Koval Man, my bike got stolen from our aprtment on the 22nd floor. Lock down your stuff!

Junghoon Lee nice bike!. you look cute on it.

Eric Cheng Mike and his bike!! Freedom!!! Why not a scooter? Where's your office! I'll announce to my village that a free bike is up for grabs and see how long you can hang on to it!!

Milia George omg i want one! haha

Andrew Fakemiddlename Moran oh boy….

Magdalena Kudlacz Do women ride those too? Because if it's predominately men you might deter theft by getting it in an unpopular shade – like hot pink. 😉

Jason Leung Wow man how much is this one?

Gautam Dadlani cool bike man

Jochen Kleef Your co-working space very much looks like a cycle track. Any races coming up?

Jonathan Kirkland Awesome.. your new commuter? Where is the helmet?

Michael Michelini yea this is my new commuter "car". I just like it cuz I can take it on the subway, into the office building, trunk of a taxi, etc etc without being hassled…its been awesome already!

Dann Diez where to buy and how much? i need one

Michael Michelini price is in the previous comments. I bought at decathon, but seen them at all the Chinese shops that sell regular bikes noww

Dann Diez nice bike

Jonathan Kirkland Put up a pic of it folded! 16″ or 20″ wheels? It's cool…

Michael Michelini maybe make a blog about it 😉

Colleen Concepcion i have one! 😀
My friend Karta, from A Go To B bikes will be excited to see this! Why folding? A few friends called it "uber-gay" (haha, makes me laugh!) but I bought a folding bike for a few reasons:
I love the "work anywhere" idea, previously showing off my tablet phone and amazed that I can do a big chunk of my work literally from anywhere. Having a portable bike compliments that.
In China, I have had my bike stolen late last year and cell phone jacked earlier in 2011…..I am HOPING (guess you'll see if I blog otherwise) that being foldable and portable, I can take it into office buildings, restaurants, taxi trunks, subways….whereas with a full sized bike the Chinese security chase you down and don't let you in any of these places. So far, I've been able to jump off the bike, quickly fold it, and enter all of those places listed….really slick!
Do like to feel I'm contributing to the environment – "green" or whatever you want to call it…riding bikes basically makes me feel I'm doing my small part to avoid gas being guzzled as well as more traffic and congestion on the road!
Last but not get GET EXERCISE, as many have pointed out…I am gaining a bit of weight….I believe my body type comes and goes with fat…but this exhausting traveling (yes Marshall, commuting) has made getting into a routine of running or exercising very difficult. So having this bike allows me (forces me) to get off my arse and spin some wheels! Only have had it a couple days and can feel it in my legs and gets my heart pumping.
And yes, riding a bike makes me happy….maybe its getting fresh air (well….is it so fresh in Shenzhen?), wind in my face, the freedom feeling of biking anywhere, not stressing about taxis or going into subway stations….its just cool.
Details on the bike:
Wheel size: 16 inch
folding – at the main frame, as well as the handlebars
six speed
cost – 999 rmb (about $150usd)
brand – Oyama Dazzle
Has a single shock in the middle of the frame
I could have gotten a cheaper version for 700rmb (about $110usd) but single speed, no shock, and didn't seem as slick.