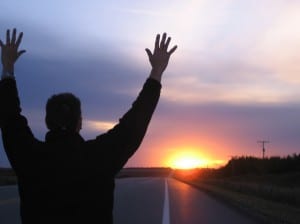 I think one of the most critical parts of running your own small business is to STAY MOTIVATED. It is definitely an emotional roller coaster….riding the highs of a great sales day, having everything fit perfectly and operations moving smoothly…..to the opposite side of the spectrum when you're losing sales, staff issues, and times when nothing seems to go right or smoothly.
I believe I am not alone when we have these emotional INTERNAL conflicts. We want to give up, we want to say that's it, maybe I should just walk away and give up. But this is exactly the time WE CANNOT GIVE UP. During this stage, we are weak, we are knocked down, odds may be against us, but this is when if we are able to get up and keep going – we are doing better then a majority of others in this situation.
Giving up is the easy way out. Especially when you hit rock bottom. I have talked about how I write things down, list them, to distress but this is some things I do when I need to motivate myself.
MOTIVATING OURSELVES IS CRITICAL. Because its only us who see ourselves each day. And now that I'm on the road so often, I really have to fight to stay motivated day in and day out:
THINK LONG TERM – Maybe we had a bad day today….is the world really gonna end? We get so consumed in the day-to-day we often don't look big picture. This is why I love taking my walks outside…..I clear my mind, get some air, and THINK. Is your "ship still sailing in the right direction?" We may lose a battle, but we have to think about the war. As long as we have our vision, our goals, we should be able to get ourselves out of those bad days in business. Its worked for me countless times to think BIG PICTURE when daily problems happen. There's normally a solution. A couple months ago I blogged about thinking long term.
JUST KEEP GOING – Like the saying, Ignorance is bliss, I think we all know those business owners who we wonder how stupid they are, how did they get to create a huge company. BECAUSE THEY JUST DID IT, and kept on going. I think sometimes thinking too much, and being too intelligent is a negative in business…..because we convince ourselves that the probability for failure is too high. Relentlessly move forward.
THINK OF YOUR PURPOSE IN LIFE – What do we want to do when we grow up? What do we want to be remembered as? Are we heading in that direction now – similar to the first point of thinking long term – I also think why am I doing what I am doing, when I get what I want, what will I actually do with it. I know I am too soft when hiring people, that I want everyone to have a chance to realize their potential in life….I really hope one day I can help a steady flow of people growing, learning, and realizing their maximum potential in life. Not just accept the life that you think "the world" has given you – but create your destiny.
DON'T BE AFRAID TO LOSE – This one is global….so many people are afraid to "lose face" (look stupid) to their friends and family, that they won't put their ass on the line to try to make something of themselves. There is a saying its better to have tried and failed then to have never tried at all and I full-heartedly believe that one. We will always have the critics, the trolls, trying to hold us down, to keep us from reaching our goals in life – but we have to realize those people holding us down, are simply trying to hold us down to the level they are on – BECAUSE WE ARE ABOVE THEM already. Go for it, take a chance, we only live life once. And failure, is there really such a thing? So many things in life I have FAILED in, but you know what, I normally learn from it, tweak the angle I'm approaching it from, and enter from a different angle later. Failures help us realize what we really want in life, and what others need.
and…. WHAT DO YOU HAVE TO LOSE – Related to the above of not being afraid to fail – WHAT CAN WE LOSE ANYWAY? Money? Sure, if you have a family or dependents who need your income to live, it's a bit different, but normally the biggest things we can lose are MONEY and TIME. Which one would you choose to lose? I, personally, would rather lose money then time. We have to learn, we have to fight, we have to battle in the game of life, and we will lose some money, and we will "lose" some time – but we will learn, and we will network, and we will become stronger and more experienced in the future. I think the sooner you realize this, the sooner you can supercharge your life.
I really try to use these points in my mind on those really bad days…..because in business, we have to accept the fact we will be riding an emotional rollercoaster of good days and bad days.