My last post i talked mainly about where i have physically been, i think now i want to discuss what i have been focusing on with business.
Loadpipe – this has been in my head for over 2 years….now i have to stop having people nickname it as a "pipe dream" (all talk, never making it) and now i have to get it going. As i have said in my recent travels, i have been talking to media and factory / trading companies in china about turning this to life. The main idea of loadpipe is an online fulfillment center based in china. Starting with one centralized warehouse in china, we can stock products from multiple factories, and have a network of retailers have them shipped to their customers directly (called drop ship). Obviously a lot more too it, but in a way, my 2 years in china will assist in a lot of the logistical questions, as well as some business partners and allies. Loadpipe is in private beta now.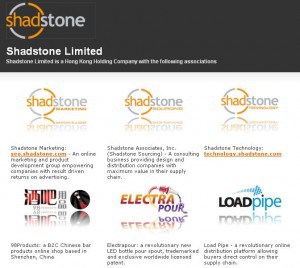 Electrapour , electrabase – if you've been reading my blog, you will see this product a few times. Its a liquid activated LED liquor pour spout, so when you pour your drinks, the stream itself lights up. Purposely dont want the pourer to attract attention, the main stream is where the eyes go. In addition to these 2 new product development projects, i am building a pipe line of a few more, new and unique concept to shelf.
Bar products, newyorkbarstore , 98products, modernbardesign – the bar products product that has always been my niche, i had success selling bar supplies in 2004 on ebay as pimpguide username (selling all types of trending products for new and young generation men) which then turned into newyorkbarstore.com (trendy BAR products) that turned into learning / trying to buy from china (shadstone sourcing) , to quitting my dayjob, falling in love with internet marketing, and always been the underlying focus of my small business career.
Newyorkbarstore.com is a bit more complex for me to coordinate, as there are 3 other business partners, (as well as friends), that add to the complexity concrete decisions, as well as they are in usa and i am in china. It needs a major overhaul on the shopping cart and backend systems, so hope to do that soon. 98products is the china / asia edition site, and i have learned a lot about chinese internet and ecommerce from that. Modernbardesign i have had a couple years, but re-designing and trying to make it a more interactive place to show trendy bars and concepts.
Liquor / wine distribution – similar to the above, i am constantly in contact with wine and liquor distributor companies. This, added to my precense in china has raised their interest in having me import / distribute their brands in china / asia. It keeps hapening, and i dont really utilize these oppprtunities, but i feel that they keep coming to me because i do have value to offer….and hope to build up a distribution network and liquor portfolio soon.
Sure, there are tons of other projects around, my love for the internet combined with my wild imagination has built up a long list of domains, all with different concepts and twists….
…..never stop thinking, never stop learning…….and never give up. Thats how i hope to live my life.