What shapes us as individuals? Sure, I've read books that we are products of our environment but its what we do each and every day OURSELVES that creates who we are too.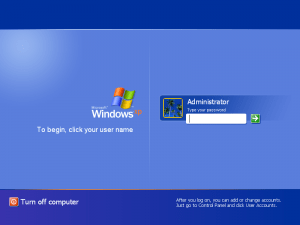 In today's digital world, one thing most of us do each day is LOGIN online, to our computers, our emails, etc.
These are things we have control over, for the most part we choose our username, our email (unless its a companyemail that has their own system like firstname.lastname), and password!
I have used usernames and passwords to MOTIVATE myself. I'm not going to go blogging about the passwords, but generally they make me smile, or make me think each time I log into my computer.
My last laptop, I changed my windows username from "Admin" to Crazy! haha, yes, when people next to me in the office or coffee shop saw this, it always got a reaction. And my login password makes me think even more!
YOU HAVE TO CONSCIOUSLY login each day right? Put your eyeballs on that screen, click it, and type in your password. It truly makes me remember what I am working for. It pushes me internally.
I think those small things in life, in our DAILY life, are embedded into our minds, our sub-conscious, and we then integrate that into the people we become over time.
Back in high school, I remember our names kind of build confidence in ourselves, people joke, make spins on, interpretations of first names, last names, and combination of the two. I do think a name shapes who a person grows up to. I just wonder if its the person filling the shoes of the name given (like they are expected to be that way) or if its those around them shaping them that way. Of course we are the people who create our "Destiny" a lot of time people allow others to do the shaping for them….sad, but true.
Well, I'll keep using motivational and inspirational usernames and passwords, just hope ya'll don't crack my passwords now, cheers!