"A man who never made a mistake, never made anything" – Richard Branson.
that quote inspires me! I relate to it in the fact that I am taking risks, many of which people think I am crazy to do. But I think to myself, I only live once, and if I make a mistake, then who cares, I learn, I move on, lesson learned and I'll be a better person the next day.
So while traveling, I picked up the book "Business the Richard Branson Way", and it was definitely a great read! Not a long book, so I can get through it rather quickly and get the main bullet points from it.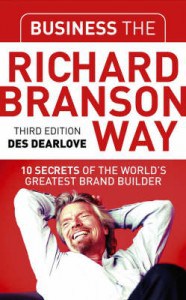 Here are some main points I picked up from it:
1) Pick on someone bigger than you – You will never grow if you don't go after the big boys. Fight any way you can, use marketing tactics that your big competitors would be afraid to be known to use, and get deals with questionable upstarts that may become big hits.
2) Do the Hippy, Hippy Shake – a hippy capitalist, Richard is a guy that works hard and plays hard. He inspires his staff to do the same, having big parties and long nights in the office. Get everyone in the organization to buy in.
3) Haggle – everything is negotiable – one thing about Richard Branson seems to be his ability to negotiate. Another thing is, he doesn't give shares in his parent company Virgin very easily, Instead he sets up new companies where the shares are divided between the businessmen. Interesting…
4) Make Work fun – like I said up above, Richard has his team buy into the company idea. He says "people work cheaper if they like it". Its not just money that has people work hard for a company, its about achieving a mutual goal. Inspire others, create energy in the company. Praise instead of criticize, motivate others.
5) Don't lead sheep, herd cats – this chapter really inspired me. If you have a team of independent workers, let them take ownership of a project. Make a team of ENTREPRENEURS within your company. Master of Mayhem, Branson allows the teams to run independently, his Virgin network operates pretty independently, and Branson becomes an "orchestrator of chaos", as if it were a rock band.
6) Move faster then a speeding bullet – push people to keep learning new things. challenge your team. When a joint venture opportunity comes to him, he brings the brand and the energy, the other side brings the experience and knowledge.
7) Size does matter – Branson wants to keep his operations to talk on a first name basis, so smaller is better . If the group becomes too big, he splits them up. He wants the workers to be in a startup culture, and have a web of startups. He is a builder of businesses, not a buyer of existing businesses.
8) Never lose the common touch – Branson has charisma. He is charming, and fun to be around. His energy brings people to him, and opportunities keep on flowing. Even though he is a billionaire now, he is still on the same level as the general public.
This book was an awesome read for me. I didn't understand the Branson way that much before, and I really connected with his ideas in the book. I hope to apply these to my day to day life…