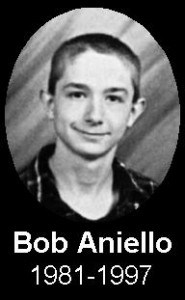 What do you do when a loved one dies? Scrolling through my upoming calendar A birthday reminder is popping up for my old friend Robert Aniello (believe its Oct 16), who committed suicide back in 1997. I don't want to delete him from my contacts….I don't want to forget him. So I think I will share this fresh thought of him here on my blog.
I knew BoB back in grade school in Hartford, CT. A really smart, witty kid, always had a smart joke as well as a homework expert! Think I met him in 5th grade, and he and I were in the same friend group up until we all graduated in 8th grade. While everyone else in our friend group went to the local public high school, he went to a suburb high school (parent's had a second address there so he could attend there instead of the inner city high school) , and I went to a small catholic high school by myself as well. He and I both weren't happy to be split up from the rest of our friends, and we shared that annoyance towards our parents at the time.
The apartment he lived in during weekdays to attend the suburb high school, and on weekends he would go back to his house in Hartford where we would try to meet up. But time would pass, and this was 1997, we were all in 2nd year high school (sophomore year) and he didn't seem to be making many new friends in his high school. I remember him always telling me to let him know when I was hanging out, and that he was constantly bored. Here is an email in the beginning of sophomore year to demonstrate:
Date: Tue, 2 Sep 1997 15:40:09 -0400 (EDT)
From: SETlTE@aol.com
To: yomagic@ntplx.net
Subject: Re: testing

You spelled it right dude. I got it. Thanks for sending this to me, and if
you or Brian do anything this year, try your best to keep me included. I'm
always home by around 4 guaranteed, I'ze gots a ride home. But really, my
life sucks, nothing goes right for me, and well, I have been having some
difficulties, but hopefully, I am reorganizing my life, and things will start
going right for me.
And another email…where I was asking him if he had a copy of Dungeon Keeper (video game) so we could play online. I was really trying to spend time with him, but we were too far apart to get together, too young to drive, and I was really busy with my studies and sports in my catholic high school.
Date: Thu, 4 Sep 1997 16:06:08 -0400 (EDT)
From: SETlTE@aol.com
To: yomagic@ntplx.net
Subject: Re: not much either

Nah, my D still doesn't work well, too bad. Anyway I talked to Bri last
night (Wed) and school sucks. This whole is a f-cking joke, and I have like
no real work, and three days a week I have two study halls in a row! So no
homework for me!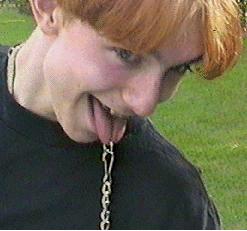 I can't remember when he committed suicide, I think it was only a few weeks from these emails. I got a phone call from my friend Billy Castagno asking if I knew what had happened. I said, "what the hell are you talking about?"
He told me BoB had committed suicide, took his father's handgun when no one was home and shot himself in the head. The funeral would be in a few days. ……
Dead at ONLY 16 years old…..
I remember the phone calls a day or two before it happened…..he was so bored he told me, I remember telling him about a girl I had a crush on, and he told me whats the point of pursuing her, that it wouldn't last and blah blah. It was a bit strange to me to hear that from him….but I thought maybe he was trying to get me to get the girl out of my head and focus on school or whatever. I had no idea he was so close, and contemplating suicide…..
At the funeral, it was OPEN CASKET…..they had fixed or covered his head so that his face was visible….but it didn't seem natural to me….friends from all over his lifetime attended…..crying….walking to see him at his casket….i remember getting past the casket and saying my condolences to his family…..his father was so angry! So angry…..
During the speeches, his father said he is so angry at his son for this, and told all his piers there this is the worst thing to do to a father or a family. He was furious…and bawling at the same time……the room was so silent.
BoB had requested in his suicide note to play the song "rocky raccoon" by the Beatles, and will paste the lyrics here:
Rocky Raccoon

Now somewhere in the black mining hills of Dakota
There lived a young boy named Rocky Raccoon
And one day his woman ran off with another guy
Hit young Rocky in the eye Rocky didn't like that
He said I'm gonna get that boy
So one day he walked into town
Booked himself a room in the local saloon.

Rocky Raccoon checked into his room
Only to find Gideon's bible
Rocky had come equipped with a gun
To shoot off the legs of his rival
His rival it seems had broken his dreams
By stealing the girl of his fancy.
Her name was Magil and she called herself Lil
But everyone knew her as Nancy.
Now she and her man who called himself Dan
Were in the next room at the hoedown
Rocky burst in and grinning a grin
He said Danny boy this is a showdown
But Daniel was hot-he drew first and shot
And Rocky collapsed in the corner.

The doctor came in stinking of gin
And proceeded to lie on the table
He said Rocky you met your match
And Rocky said, Doc it's only a scratch
And I'll be better I'll be better doc as soon as I am able.

Now Rocky Raccoon he fell back in his room
Only to find Gideon's bible
Gideon checked out and he left it no doubt
To help with good Rocky's revival.
It had played once, maybe twice….and it was just a strange feeling to me….I don't know the meaning behind the song, or why he would request it to be played during his funeral….but I only think of him when I hear that song now…..
How I miss BoB…..he was such a smart kid, we all knew he would have programmed, designed, built something big in his lifetime….I lost touch with him in high school, tried to hold on……just wish he was still here with us today.
Note from a reader, Jan 1, 2011 I just got this email from a reader on the blog, correcting me on who was home during his death.
"Thank you for remembering; it still hurts us every day. Bobby's sister just had a baby boy, Rob; life goes on. Btw-whole family was home, he not home alone. Very painful. Thanks again for keeping memory alive; best new year wishes!"
Remembering BoB, November 2016
I still haven't forgotten this dude! Wrote up a letter for you today BoB, in my morning writing session:
Hi Bob,
I miss you man, your birthday passed a couple weeks ago – I still have the calendar reminder pop up for you. I remember how smart you were, always acing tests without breaking a sweat. And our trips to the mall, you – Magoo – and I. Trying to get the courage to approach girls there, haha. Buckland Mall was a nice mall to walk around though at least.
And the Risk games! And Magic cards. I remember how during a weekend sleep over at Billy's, everyone else was out of the Risk game, just you and me. I pushed myself to take you out in a big campaign move. Got all of your countries but just couldn't get that last one in India. You came back with turning in a set of cards and wiped me off the board.
I treasure these memories Bob. I miss you. But you live on through me, your inspiration, your humor, your intelligence. So, I hope I am living as best you can see me living.
Your friend for life,
Mike
Remembers Bob Aniello, April 2019
So today it isn't his birthday but closer to my birthday. Many of my fond memories of childhood include Bob.
I miss you buddy. I can only think of what amazing things you could have achieved in this world. Maybe we could have been business partners on projects. You were so talented technically and also strategically.
Maybe could have made an even better Facebook. You were so talented. Maybe that was the problem- you were too smart for this world. I still remember our last phone call a few days before you left this Earth – I had a stupid crush on a girl in my high school and you said who really cares what is the goal. I should have recognized that as a sign. But you often helped me forget about stupid things I would stress about – you were a great friend.
Miss you BoB. I think you are there in the atmosphere reading this as I type it. You are an aura supporting me and my friends – you live on through us.
Remembering BoB on his birthday Oct 2019
Hi BoB,
Happy birthday. It is 2019 and I still think of your insights and chats way back in 1990s. You are not forgotten. I know with Brian and Andrew and others when I go back hometown we also bring you up. You were so talented. Our lives would definitely be different if you were still around – I am sure. You were just too smart for your time. Maybe if the internet existed then you'd have found your people and your niche more. I love you man, and I did learn a lot from you. I do hope your spirit is watching me write this and I do hope you found your happiness past this physical presence. Happy birthday bud BoB!