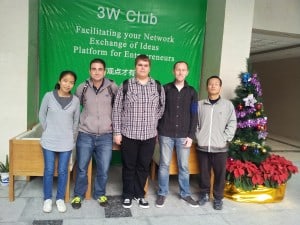 Sometimes in life you just gotta make a stand. Take a chance. Put everything you've learned, built, earned towards one thing and EXECUTE.
I remember first coming to China in 2007, thinking how cool it would be to do an international business. I remember wanting to do Load Pipe import/export trade platform, and thinking "man, I have no idea how business in China works…let me first do traditional sourcing and trading for a while until I know how business in China works, then build my startup platform".
I remember coming up with excuse after excuse on how I have to learn more, experience more, network more.
Maybe I am being hard on myself, but I think I have used consulting and projects as a way to "get by" and avoid doing a startup hardcore enough. Maybe because I have had some experiences in the past that didn't work out exactly like I had wanted.
Learn, and keep going.
I really am more and more positive about how Social Agent (re-branding a bit to be more than "weibo" agent). Mostly because of our team. We are growing our team with hardcore developers who believe in the project, the vision, and we are executing.
Also because of our first group of customers. Who are PAYING, who get what we are doing, believe in the long term vision, and are signing up and telling their friends.
We had our team-building meeting this Sunday afternoon in 3W coffee shop in Shenzhen (unfortunately Chris Li couldn't make it, miscommunication on dates). We are all understanding the core vision, the project, the customer demands. It is am amazing thing. Maybe this is what I was missing before…a vision, or at least sharing this vision with a good team, with a good core group of customers, with an audience and a community.
Last week I spoke at a global mobile internet conference (Thursday) and on Friday I pitched to Chinese investors. The China VCs cannot believe they meet a foreigner to pitch them for investment – foreigners always fail in China they say. But I am just executing. Signing up 2 new customers for Social Agent last week (business-accounts) as well as getting daily signups each day.
Team is the most important part. But I, as CEO, have a duty to take care of the team, and seem we need to close on some angel funding to keep the team's focus.
This is where I cannot delay anymore. It is my duty. I should stop blogging right now, but taking these 20 minutes to type this up Sunday evening. Planning the week ahead. 2 customers / business cooperations to meet tomorrow, Tuesday in Hong Kong for business, Wednesday and Thursday work with the team in Shenzhen.
Delay no more! Treat every day like its gonna be a great day and do amazing things.
If this was easy, everyone would do it. But man, it is pressure + stress. My responsibilities.