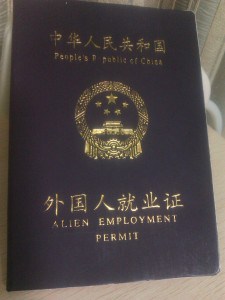 I got a couple calls and emails from friends thinking I am leaving China after one of my latest posts about expat friends leaving China…but to confirm..I am here I think its always stressful for someone living outside their home country to submit a renewal of their work permit in the country they are planning to stay in. I have a 1 year work permit as I'm employed under contract by my Chinese WFOE (Wholly foreign owned company) Shadstone Imp & Exp (Shenzhen) Co., Ltd. that I had to recently file for a renewal.
I try not to complain about dealing with governments and banks…but really the joys of getting a passport visa never end! The only good thing is I only have to go through the hassle once a year – and its a 1 year unlimited entry, unlimited stay…not like in the past where I was jumping across from Hong Kong to Shenzhen every 30 days (30 day stay) and 3 or 6 months getting a new passport visa. Once I get a work permit I can stay 1 year without having to leave.
This is now my 3rd year under this work permit, opening my work permit in 2009, I had to go through health check, interview, and more departments and paperwork – renewing it each year is much less of a hassle then the initial application.
As I have said earlier this year, I'm sticking to China for the next 5 – 10 years at least….unless of course the government deports me or there is a world war or something crazy and uncontrollable to me.
Actually, I'm more excited then ever, I will be interviewing Chinese ecommerce companies each week, builing up ecommerce meetings in China and USA – hopefully doing some intern programs here.
I like this crazy adventure. This stupid white guy isn't giving up so easily!