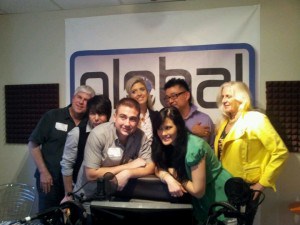 Exhausting first day in LA! Not even here 24 hours and on a live radio broadcast in Hollywood! My friend R. Victoria who've I been talking to on twitter and also dialed into their show via phone in the past invited me to today's radio show. The show is moneyandmusicv.com Money and Music that is broadcast via gvbradio.com/money-and-music Global Voice Broadcasting radio in Hollywood studio called Sunset Gower Studios. Its a really cool series about Financial topics and fresh, new local music.
The show is all about MONEY and Music – really cool topics, it plays every Thursday at 5pm PST Every Thursday with 2 awesome hosts Victoria and Walt! Its broadcast on the internet and also a podcast that is online for 1 year after the recording.
They had some awesome guests on the show:
Harold Lee from Living Textiles – an Australian entrepreneur who has been in USA for a few years now, building up distribution for his brand of baby clothes / textiles. Her business partner was there also, Victoria, who is his marketing rep – she is very excited about the growing opportunity of this baby clothing brand "Living Textiles" and I believe they have a lot of potential. They are in major retailers throughout the USA already, and Harold is an experienced businessman.
Another host is Di Lee, she is American born with half Chinese half Italian descent and getting her name out there in the China market. She is interested to have me help her build her brand in China. Her new single was played on the show, and was amazing. Her music website is dileemusic.com Di Lee Music and she is still finishing up her first album. Very talented woman having done modeling and acting and now moving into singing. Maybe she can do some music together with Gabree – already started discussing so many opportunities.
Walt and Victoria asked me a bunch of fun questions about China business. Some topics that we covered:
New regulations on Americans opening / holding offshore bank accounts – a hot new topic in the news is how there will be new policies for Americans to have bank accounts overseas, due to tax reasons. They asked what I know of this news, and how I think it will affect Americans ability to do business overseas. I answered how its already somewhat of a disadvantage fo Americans do do business overseas than Europeans – with global tax making Americans pay double tax and other issues. Now with this new regulation, and hearing that Americans may not be turned away from opening an account in a foreign country because of the regulations that bank has to do in order to process it. Isn't this unreal. I wonder what this will do for Americans overseas, like me? We then got into topics like Americans denouncing their citizenship while overseas so that they can have more freedom in opening accounts and doing business.
Differences between USA and Chinese e-commerce – Explained some high level differences between USA and Chinese e-commerce. Key differences I mentioned was cashflow (payment in Alipay waiting until goods are delivered to buyer before funds given to seller) and chat/bargaining in China (Taobao has chat integrated in the system and buyers bargain via chat and the price is changed during checkout)
It was a lot of fun. Attila was amazed as much as I. We were inside a Hollywood studio! Life is getting to be pretty amazing.
I'm seriously jet-lagged, but wanted to get this blog post out there ASAP. Tomorrow is another jam packed day and I hope to get over this jet lag by morning.