The Early Effects of Burning Season in Chiang Mai, Thailand
Getting towards the end of February here in Chiang, Mai, Thailand and burning season is getting underway. My local friends tell me it has yet to even begin.
And the family here is feeling it already.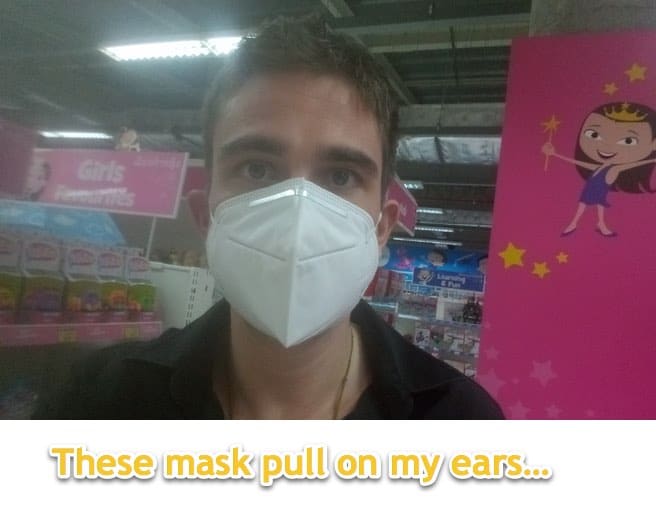 What is the Burning Season?
It does sound quite scary – well it is in a more silent way.
No, the trees aren't burning down in our line of sight. But there is burning going on. Up in the mountains surrounding Chiang Mai – farmers are burning their crops. They have been doing this for about a decade now as a method to harvest more crops sooner. There is a bigger demand from consumers to get more crops, and by burning the ground they are able to prepare to harvest more sooner.
Something like this.
And here in Chiang Mai, it is a flat city surrounded by these mountains and farms – so basically all the after effects of this burning comes down and settles in the city.
More Insights Into Reason for Burning Season
As more digging – there is more to the story. While it is true – the increased demand for farming has made farmers need to make more crops – here is another story.
So the government has been trying to get the farmers to stop – but there is another reason. The farmers need more income. Government has tried to get them to sell their food, but all the farmers grow the same crops (something about a plan the government set out to have farmers in certain regions all make similar food, and then there is an excess capacity).
So what do the farmers do? During this dry season (now called burning season) – they burn the forests in the mountains to harvest MUSHROOMS. My wife says they are doing this to have something more profitable to sell, and telling the Thailand government that they need to sell these mushrooms as the other crops they have are in excess and not as profitable.
If I Knew This – Why Did I Move Here?
Ok, so I knew about burning season before moving to Chiang Mai – I can't deny. I just figured – I lived in China for over 10 years, and there is pretty bad days of pollution and I can deal with it.
And we aren't buying real estate and opening offices right now – Wendy and I came to check it out and see how it would be.
How It Has Been So Far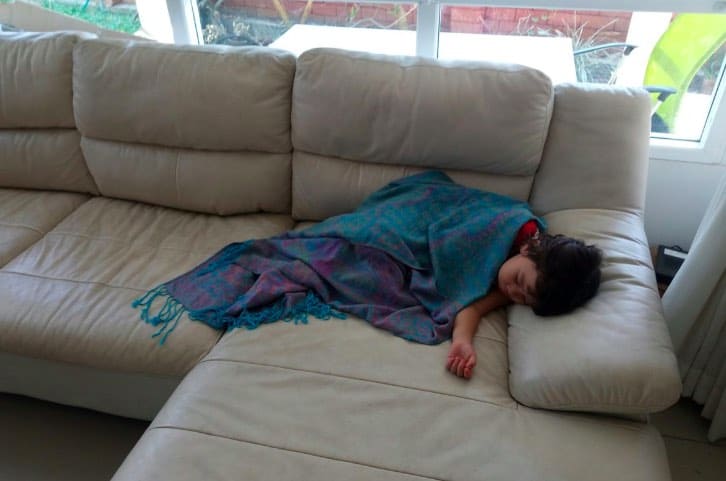 And I regret to say, it hasn't gone so smooth.
My daughter got a cough in mid Feb that didn't seem too serious, but escalated and had to go to the hospital. Took some medicine and is better, but feel it is connected to this burning season.
My son a few days later woke up in the middle of the night throwing up. It didn't seem connected to the food, same food as always.
For me – I have had less energy, needing to go to sleep earlier and having a hard time getting out of bed in the morning. And for me that is crazy – I measure my sleep (MiBand) and even with 8.5 hours a night (normally I never sleep more than 8 hours a night) I'm still tired! And I always woke up to my alarm – especially the past 3 to 4 years with my hard core morning routine.
And more headaches, trying to not take aspirin, but to be able to write and be clear minded its hard without aspirin.
Wendy is also saying it has been harder for her to wake up and she is more tired and groggy in the daytime.
Is It Really Connected To Burning Season?
Sure, how can we directly connect all of this to the pollution from burning season?
Well – we moved here in August and none of us had these kind of symptoms. Literally right now I am sneezing and it feels like the rejection of the air.
Photo in Early March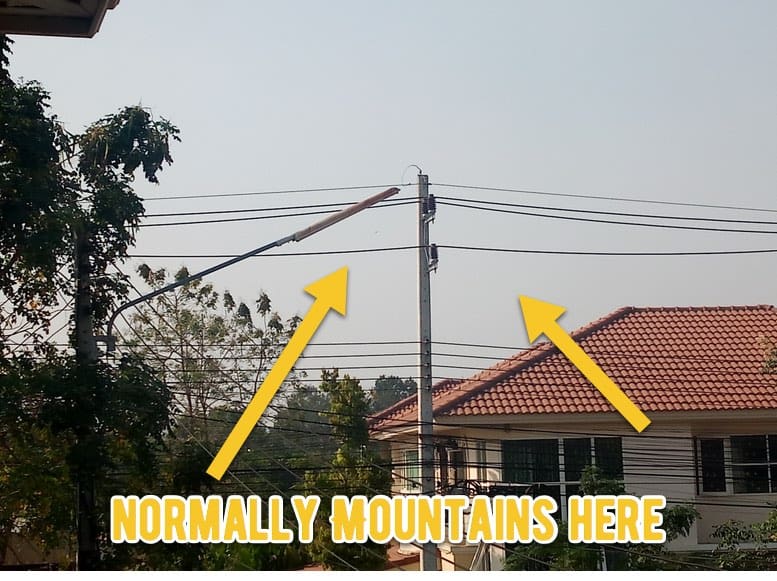 Photo in Mid April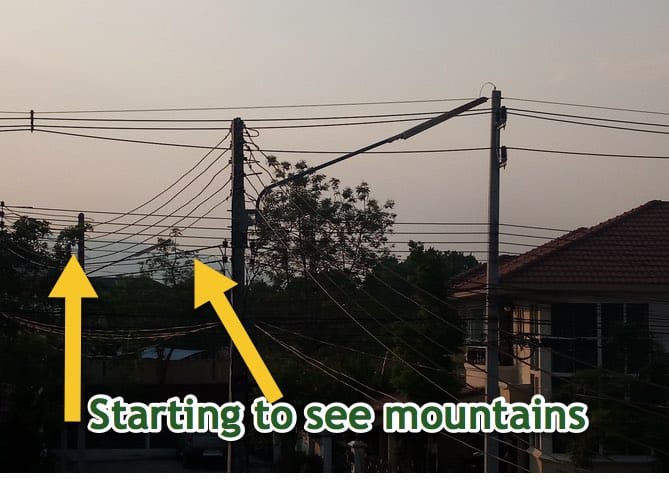 Its A Different Kind Of Pollution From China
Talking to friends – they say it is a different kind of air pollution than what I had in China. It is like soot from burning in a chimney and having the smoke come into your living room.
The pollution in China is not as bad? That is pretty wild conversations to have with people.
But I have to say – so far in the early stages of my first burning season – after 10 years in China – this pollution here has had more of a noticeable effect on me and my family.
Seeing The Burning Season From An Airplane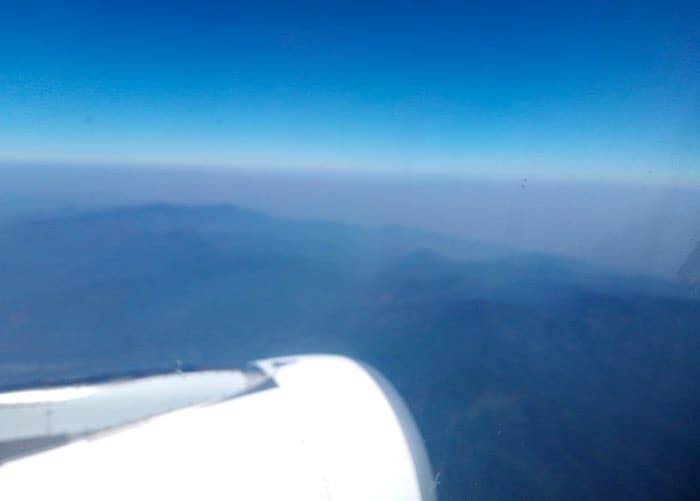 Later on after writing this post, I took a flight to Taiwan. I got a real bird's eye view of the conditions! I took a few snapshots from the plane, but really hard to show it in a photo – it is true – Chiang Mai is a flat city surrounded by mountains and you can see all the smoke coming in and settling there.
Update My Wife Now Is Also Feeling The Effects
So about a week after writing this, my wife is also now feeling the after effects of the pollution of burning season. (I'm in Taiwan now for a conference – thus the plane ride photo above).
She took the kids about 1.5 hour drive outside of Chiang Mai to a meditation retreat area where they are having tons of fun and say it is very clear air.
Honestly, we are looking for other cities in Thailand to move to. First of course is the school, so Wendy and I are digging out more schools in the list and doing our research. As always I will share with you as I go.
One Day Later
So I have been hesitant to post this – and just updating as I go first. Both the kids stayed home from school due to headaches. They were sleeping on the sofa most of the morning – very scary to see.
Wendy later took them to the hospital, and the doctor said what we expected – it was due to the air pollution. He prescribed some medicine and the kids have since recovered.
I haven't taken any medicine, but a day later maybe I have adjusted to it. Yet my head is a bit more faint and I am still having trouble getting out of bed (groggy / lazy feeling which is NOT me!)
Pollution Updates (Mid March 2019)
So to keep this post updated – early March the pollution slowed down to healthy zone. But now mid-March it picked up – and even stronger than ever. Was really hoping that the law my friend talked about would solve it, but no, it is back to its highs: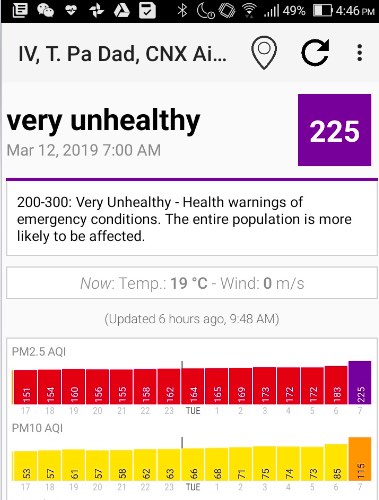 Our kid's school is sending out more scary and sad notices as well: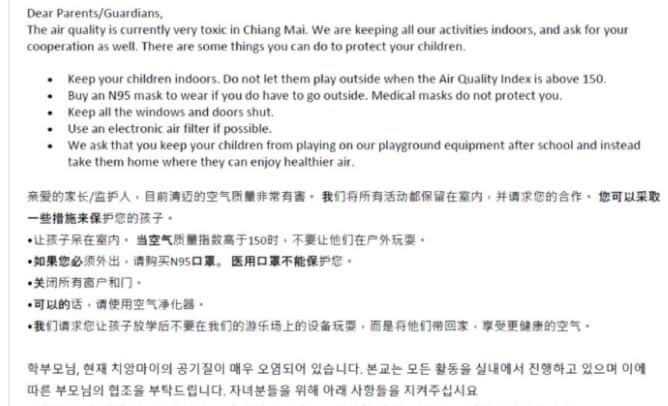 Good morning parents ???? The levels are extremely high today and we're doing all that we can to maintain a safe and healthy environment in our classrooms. Please be reminded that students are to be taken out of the school after dismissal as the weather is not safe for playing outside, nor do we have adequate staff to supervise children who have already been dismissed from school. It is also school policy to provide a doctor's certificate for your child to return to school after having sick leave. It is necessary for us to have that clearance for our students returning to school so that we can provide a high standard of infection control for the safety of all students and staff. It is impossible for me to negotiate these matters with parents as This is school Policy that I am required to abide by. Thank you in advance for understanding ???????? Wishing you all a wonderful day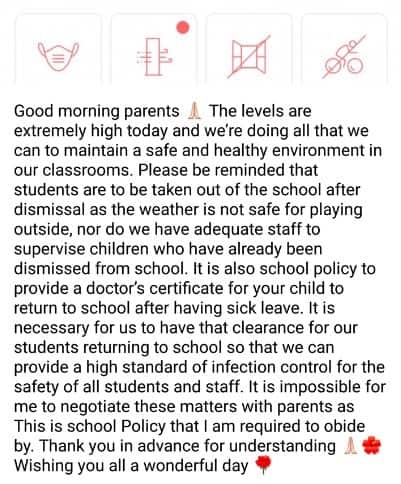 And our kid's need to wear masks. We teach them their generation needs to solve this, we are destroying our earth.
Have Met Others And They Are Fine
So I have still been going about my life meeting people and shopping. Seems most people are not waiting pollution masks and are not sick. At lunch with some Amazon seller friends and they said they are totally fine. Both said how could I be affected if I lived in China for over 10 years.
Crazy, I am saying the same thing.
Maybe I was getting these headaches there and because it was year round I adjusted to it? Maybe the last six months or I have readjusted and then it hit me harder. Or maybe the location I live in Chiang Mai is stronger than where others are living (I'm near Promenda Mall).
Fact: I'm Just Paying More Attention to My Health
Main thing here, for me at least, is I am just monitoring my health more. My sleep performance, the time I go to sleep and wake up. If I have a headache or not, etc. I am just more sensitive to noticing any performance reduction (my wife calls me a robot) – as I measure my work sets (Pomodoros) and measure my morning routine.
So I am not sick in bed – I just notice I am more tired than usual with a slight headache in the center of my forehead. These have slowed down my productivity and I'm getting paranoid now if it will be like this for the next couple months or not.
Bought an Air Filter Machine
Wendy bought an air filtration machine on Lazada – Xiaomi brand – and it is sitting right next to me in the home office: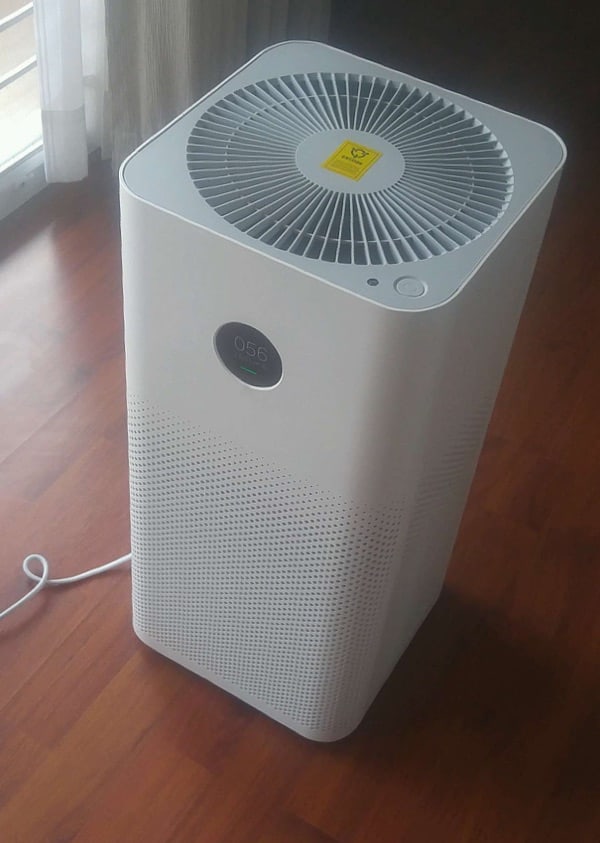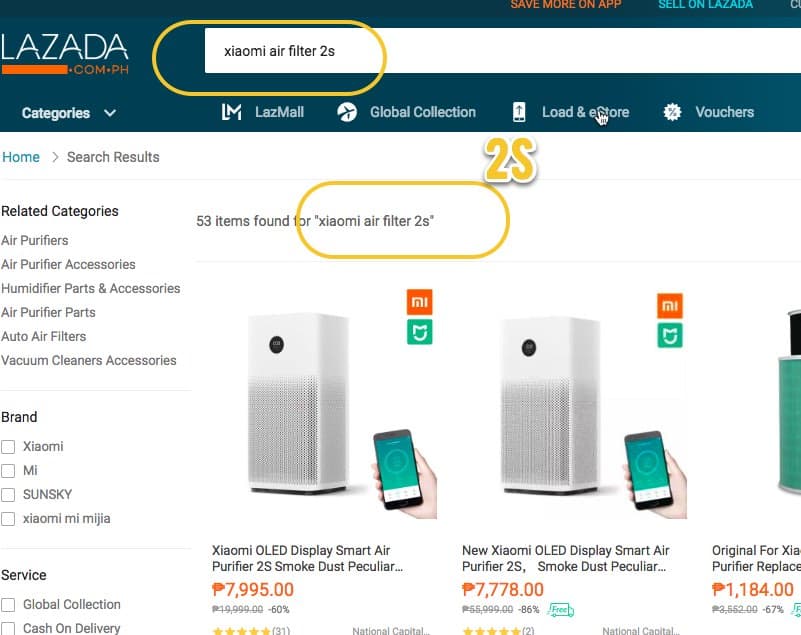 Thai Government Stepping In
Thursday, Feb 28, 2019
After blogging this, I keep updating! Ian Borders told me that in Pai he heard from a police officer that there is now a law coming into effect – Friday March 1, 2019- that will fine farmers 10,000 Thai Baht (about 300 usd) if they are caught burning.
I asked for a link, but he only verbally heard it from a police officer there.
Maybe this is why the burning season started earlier this year? Farmers trying to squeeze in the burning while it was still legal?
Let's hope this does something! This news may keep us here!
School Closed Due To Pollution
End of March 2019 – School Closure Due to Pollution
So as this burning season continues, we got notice that school will be closed due to the air pollution.
Makes me think of being a kid and school being closed due to snowstorm. The world we live in now.
Here's the message they sent parents (removing personal names / information).
School Announcement:

The AQI reading has been over 500 for the last two days and while air purifiers can lower the pollution levels, 500 is too high to ensure the purifiers can filter that level of air pollution.

We believe the safety of all staff and students is paramount.

Therefore, tomorrow, Monday 25th of March, the school campus will be closed. A further update will be provided by 2pm (14:00) tomorrow with regard to the rest of the week.

We apologize for any inconvenience, please check Line, and the website for additional updates.Chiang Mai school
So sad, our neighbors and others are fleeing the city. We may get out of here too.
Massive Pollution Update
Saturday morning here and the records are high again. It comes in waves, normally in the morning at the highs.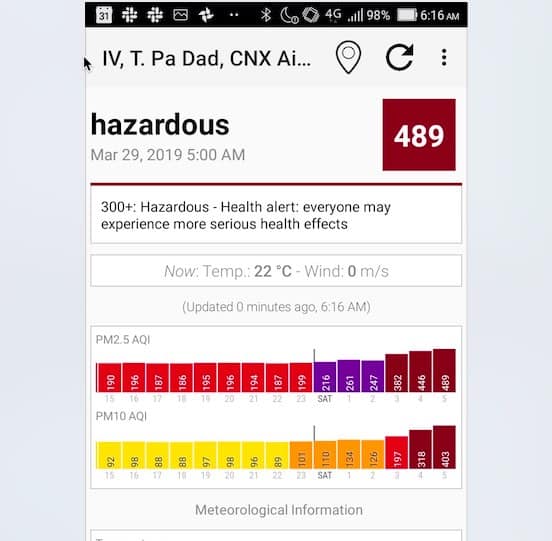 Will Keep You Updated – Any Tips?
Will keep you updated on how things. Would also learn how you have dealt with pollution or specifically Chiang Mai's burning season.
Preparing For Burning Season 2020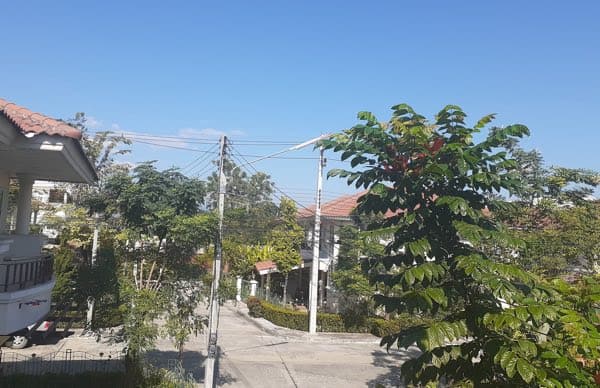 Yes… Already Thinking About Burning Season 2020
Time is moving fast. And the burning season in Chiang Mai will be back soon enough. Yes – it is November 2019 and I am already thinking about Feb/March/April 2020 – but as a dad, I am serious. Last year we stuck it out for as much as we could (before heading to South Thailand towards mid April) – and said this year we would either move or leave during the burning.
So we have decided to stick around Chiang Mai – but to leave during the burning season. Seems this is just the reality of most people living here- the rest of the year is so nice and all the other "checkboxes" are checked, it is just a "bad winter".
That is what a friend, a German dad here, called it. It is just like winter in Europe. You don't go out much in winter – it is cold and the roads aren't safe. That is how he was justifying it to me – and I was going along with it. I guess then I'll be a "snow bird" and fly out for the winter of Chiang Mai.