Heading Back to the South China Insanity
Just a quick update – been dealing with recovery from burning season a bit (still) in Chiang Mai but now all is good / it is over.
Right now preparing for a wild trip for 5 intense days in Hong Kong, Guangzhou, and Shenzhen. As it is easier to send my business colleagues a blog URL – and there isn't much to hide -here is the agenda.
Monday May 20 – took one of 2 direct flights I could find from Chiang Mai to Hong Kong – Cathay Pacific – leaving around 7pm arriving at 10pm local time (1 hour difference, 9pm Thailand time). Heading straight to the Airbnb in Sheung Wan.
Tuesday May 21 – banking meeting w/ Ray Ng my partner at UniproHK.com in the morning. Lunch with him to talk how business is going.
Afternoon will be doing a training session from 3-6pm on Amazon FBA setup, structure, and launch. Targeting those getting started who have a brand, are doing B2B or OEM, and want to go direct. May 21, 3 to 6pm in Hong Kong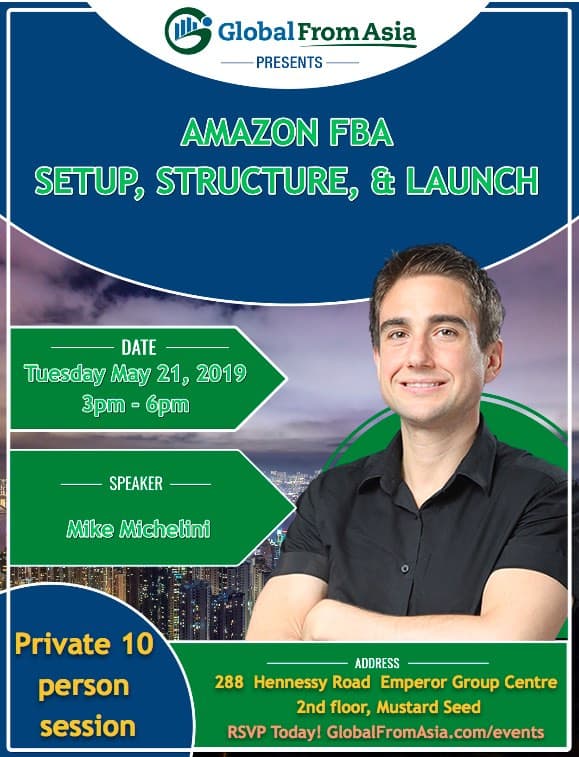 Evening still confirming. Lorenzo wants to do a networking event while I'm in town, but I am tempted to go into Guangzhou by train that night.
Wednesday May 22 – either travel to Guangzhou in the morning from HK (or take the night train). Will be meeting my partner in Cross Border Summit – Mark Ramos – and checking out a few venues he has highlighted. Also other CBS organizers and supporters will meetup and discuss the strategy to grow this 4th year to be bigger and better than ever – save the date – Oct 22-23, 2019.
Guangzhou Plan:
See Cross border summit venues
Meet Mark Ramos, Caferny, Mo,Wilson, and the Guangzhou Ecommerce Association,
Will be an action packed afternoon.
Plan to take the train to Shenzhen that night, May 22.
Thursday May 23 – in Shenzhen, China. Plan to work in the morning. In the afternoon have another Amazon FBA setup and structure workshop at Terrace in Seaworld. Evening may do some simple networking.
Friday May 24 – in Shenzhen again, will be doing some business meetings with Meir and others more in a private day.
Saturday May 25 – Doing a corporate training seminar on Wechat marketing from 10am to noon. Then I have a 3pm return flight HK to Chiang Mai. So will have to go to airport right after the session.
More later
What is going to happen this week. Landed late on Monday night – flight delay – and to my airbnb in Sheung Wan around midnight. Granted it was 11pm Thailand time so not as late, but still a late start to an intense week ahead.
Mentally preparing here on Tuesday May 21 morning – was it George Washington who said if he had to chop down a tree he would spend 8 hours planning it and 1 hour doing it?
So just reflecting on things now and may even post this hyper update in the same blog post.
Writing out emails for various client work (Unipro consulting, Shadstone marketing) before the day gets hectic. In the zone with Brain FM and really pushing the limits. Some of the emails are ones I would prefer not to write or send, but there is another saying – I believe Mark Twain coined – eat a frog the first thing every morning.
Also typing out more SOPs for the team. Really the handbook is massive and I can't imagine more documents it would need for content creation and online media. Seems to be true value.
So today's Hong Kong lineup is getting to be intense – soon I'll go to Hang Seng bank for Ray / Unipro partnership requirements hope it isn't too much of a hassle. Before that I need to see what is up with my CMHK internet, maybe it is totally turned off? And I want to see if I can get a 3 day roaming package in Shenzhen / Guangzhou before I go into the madness.
Lunch with Jeff Broer and Ray. Still not even sure where we will have our lunch.
Then meeting a journalist – feel it isn't too good to share it publicly on my blog, but a great media company.
Then going into our roundtable mastermind. Will be a great group of experts in ecommerce and cross border trade – some old friends and some new faces. Three hours is probably not enough time for a proper mastermind, but will make it all fit accordingly.
Still need to decide to stay in Hong kong or head direct to Guangzhou. There is two sides pulling on me and I plan to still go as planned to Kowloon station to take a bullet train to Guangzhou – as I have a full day tomorrow (Wednesday).
I can master the universe. I am going to do it all.
Ok, so in Guangzhou we have a ton of meetings setup – morning strategy talk with Mark and then visit some venues for the Cross Border Summit. Oct 22-23 will be an amazing couple of days, with exactly 5 months to go we are certain it will be truly a top level executive event for experts in the industry.
Will also meet some other people in the community who are supporting in the marketing of the summit, as well as a Chinese cross border ecommerce association who wants to collaborate.
Also need to have samples sent from factories down to me in Shenzhen so I can take them back to Thailand.
Once Wednesday insanity is done in Guangzhou, I prefer to go back to Shenzhen that night. Why? Because I am hosting a workshop on Thursday and want to make the most of it by being in the town the night before (not a fan of flying in to a place the same day as when I need to do a presentation – always enjoy knowing I'm where I need to be the night before).
Hope to get to Shenzhen at a reasonable hour, get some rest and then do an amazing workshop on structuring and launching an Amazon Fba business. Gary at Shekou Daily has been helping get the word out and will be working hard to deliver as much value as possible.
Thursday night am keeping open to spend more time with the workshop attendees as well as some high level friends.
Friday meetings with sponsors for the Cross border Summit and Global From Asia media, and pushing as hard as I can to get amazing people together and supporting the community and what we are trying to do.
Saturday I have a private training session for a corporate client (third time repeat workshop) and am really excited they are inviting me back again and again.
Finishes up at noon and then I need to rush off to the airport for a 3pm depart. A bit nervous that is cutting it close, but it is near Huang Gang border and then will take a skylimo direct to the airport.
That night see my wife and kids and celebrate my son's fifth birthday. Wow, 5 years old already.
Time flies, we need to try to catch as much as we can. Also hope I was able to recording some good video clips of all this hyper events and travel. Many miss the vlog – and I also miss it – hope to have one a month or so.
May just embed taht video in this blog post instead of making a new one.