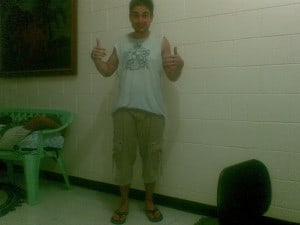 my buddy James Song thought of me when he got this email and passed it along – I definitely think it fits my current lifestyle and objectives these days. Its about just OWNING what we really need in life. Not to be attached to personal goods.
I took a quick snapshot of me right now, I'm hanging out in flipflops I bought here in the Philippines for $2usd (100 pesos), some cargo shorts I bought with a friend for about $5usd in China – and an old tank top I had in USA. I'm enjoying, I'm relaxed, kicked back. Slinging message on twitter, replying emails, organizing my workflow.
So the email James got goes like this – (NOTE – this is NOT written from me, haha) Well, I never had the chance to buy all this crap here:
Check this out…

I just finished selling (or giving away) all of my personal
possessions.

Not too long ago my life consisted of a massive 6-bedroom
house (with many rooms I never even went into!) and
5 cars. Yes, FIVE cars. I'm a car guy, what can I say. 😉

I had accomplished what many consider to be the
"American Dream." I had the huge house and all the
toys. The Lamborghini, Ferrari, BMWs, a Rolex
collection, an expensive wardrobe, amazing furniture,
a massive home theater, a 1,000 gallon saltwater
aquarium, the works.

And now I have NONE of it. And I'll explain why in
a moment…

Here are some "quick facts"…

For the first time in over 20 YEARS…

– I don't own a car.

– I don't own any furniture.

– I don't own a TV.

– I don't own any books.

– I don't own a huge closet full of clothes.

AND…

– I don't have a HOME. Not a house,
or apartment, or anything.

By now you're probably thinking…

"John, what the hell are you doing!?"

I decided to do all of this because I wanted
to do a new experiment on myself…

It's a challenge of MINIMALISM.

If you haven't yet heard about minimalism,
or read anything about it, you should. Not
only can it (I believe) improve the quality
of your life but it can also make your business
a lot more profitable.

Minimalism is essentially focusing only on
the 3-4 most important things in your life
(or business) and ELIMINATING THE REST.

There many opinions on minimalism and how
to apply it, and some approach it differently.
Do some Google searches for "minimalism"
and you'll find lots of great blogs about it.

It's really a growing 'revolution' of sorts.

I don't agree with everything he teaches, but a
decent book you can read is "The Power Of Less"
by Leo Babauta; and he's someone with 6 kids.
That will get you started.

Everyone will have their own take on minimalism.
But I'm willing to bet you can benefit from it.

WHAT I HAVE LEFT…

So you're probably wondering, if I got rid of
all that stuff, what the heck do I actually have
left? And how will I live?

Here's a full list of the only things I now own…

– A small 28L backpack (that holds everything below)

– 5 t-shirts (4 short sleeve, 1 long sleeve)
– 1 pair of jeans
– 1 light jacket
– 2 pairs of shorts
– 1 pair of running/trek shoes
– 5 pairs of boxer briefs
– Assorted toiletries
– Clothesline & large ziplock bag (for washing clothes)
– 1 MacBook Pro 15″
– 1 64GB Wifi iPad
– 1 iPhone 4
– 1 Livescribe Pen & small notebook
– My passport & credit cards

THAT'S IT. That's all the 'stuff' I own. ALL OF IT.
It seems like a growing trend. I read more and more about this happening around the world. I like to think back to one of my favorite movies – FIGHT CLUB – resisting resistance, and just letting go! Why do we need this damn corporate job to buy things for a condo to show off to our friends. I have been still even forcing myself to get out of that MATERIALISTIC mindset……where things you own make who you are. I don't want to associate myself with people who measure others in this way. These people are not worth my time. Let them run that rat race and show off to other rats in the cage. Haha.
Later I think about too many people spend money they don't have to buy things they don't need to impress people they don't like – a great quote by Will Smith and I think this gets more and more true, and sadly I seem to think so many people actually do this…
I HATE MOVING. Every time I moved, I realized how much CRAP I would accumulate. Things I used maybe a couple times, wasted time and money buying……but moving makes me realize each time that I have to accumulate less, live lighter, and JUST LIVE LIFE!!!!!
Life isn't about HOARDING things. When we die, we can't take those precious possessions with us, right? its about how we live life.