Had dinner tonight with a couple guys from Paypal China, while here in Shanghai. I am talking to them about payment processing, merchant accounts, IPs in different countries. First of all, CHINA IS GREAT in the fact that I go to a Paypal office, can meet a representative, and then GO OUT FOR DINNER AND DRINKS WITH THEM. Haha, I would never expect some kind of service like this in Paypal USA!! never, ever!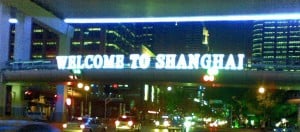 They are not used to talking to many americans about Paypal china. Their written english is great, but spoken….well…..is barely there. Of course that is probably even better then my Chinese!!
Anyway….we discussed how its such a balancing act between USA and China
in USA, lots of the banks, ebay, and paypal want you to be in USA if you have business there. So many chinese here in China would love to utilize an ebay USA account, as they can then come higher in the ebay search results for domestic USA customers searching (ebay prioritzes each country's searches by the country the buyer and seller is in first, and then puts the international below).
So my being in China as a USA business forces me to use VPNs and other gateways to get into a USA location and then seem to ebay and paypal that I am surfing the website from America.
And on the Chinese government side, they keep blocking and banning more of these VPNs and gateways, as they do not want people in their country to access websites that do not comply with their censorship (ie twiter, facebook) Remember the news about Google China leaving China? Yea…..well, if they stopped listening to the chinese government about filtering their search results, they would have to leave, and did.
So anyway, it is getting harder and harder to do what I do from within the GFW (great firewall of china) as both USA makes it harder to seem like you are in USA and China makes it harder to get outside of their walls!
There is a quote I just found on twitter:
"If you're not having problems, you are missing an opportunity for growth." ~ Anonymous
And that is how I am trying to live. Sure, everyone questions why I struggle so hard…and sometimes I do say "damn, why don't i just go back and work from USA, things are so open and easy to do business" but I cannot give in to the temptation. I am trying my best to maximize value on both sides.
As Jay Xie from Webpower Asia told me in a meeting yesterday, Americans will see my as a China inroad, and Chinese people will see me as an inside track in USA market. I have to play both of these sides. It is like a double life, but it the value I am trying to build in myself and business around me.