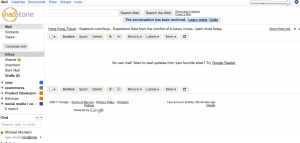 Wow, I am still in a bit of shock, hitting reply as soon as I get an email while I type of this blog…..I have been investing a lot into mobility and productivity apps lately and finally I can reap the rewards…..oh the smell of a sweet sweet empty inbox (those of you that have been reading my blog see I hate emails so this is a great success!
So excited that I am blogging on how I did it:
Hardware, mobility – As my friends told me, and kept pushing me, this Mac Air I'm blogging from is really effective, solid state drive is my favorite as I can pop it open on a bus, subway, taxi and type up emails and proposals. Using first a viewpad tablet then a Chinese huawei tablet using I'm currently. These are investments for my business, and to get work done anywhere. I also have a "mifi" device that turns China telecom SIM card data into a wifi hotspot, so I can work anywhere I can get cell phone service….

Its really amazing….truly becoming a mobile world…and I am embracing it.

Online tools – This has been an investment in time and research for years now….reading ebooks, talking to geek friends. Trial and error over time.

I could make a whole blog on each of these, but I'll list them here instead:

deskaway for project management – sure there are a lot of project management tools out there, we all have our favorite, this one is simple, direct, and cheap. It also lets me get rid of emails by assigning tasks to team members there, and it stays there until its done.

followup.cc – I am LOVING this, think this was really a way I can reply to an email and move it out of my inbox….BCCing myself to email a reminder in a certain day / time (6 hours from now, 3 days, 2 weeks, 4 months, etc) – sure there is google calendar that I use as well, but this is simply a quick way to email me back the whole thread of email and I can then reply to it and ask the other side "hey did you get this done yet" rather than me keeping it in my email box.

Evernote –

lastpass – no more emailing passwords!

dropbox – no more emailing attachments!

google talk, gmail, calendar, Google voice – google tools are awesome, you should use all of these.

Google gmail labs: Default 'Reply to all' by Mark K, Send & Archive by Pal T, Signature tweaks by Keith C and Dave C

Being direct in my reply – sometimes in the past I would read an email and think about how to reply…now I am trying to reply as soon as I read it…no more "mark as unread" and wait….I gotta be direct and confident and just do it!
Delegating – this has always been hard…but when I get an email and it should be sent to someone else in the team, I don't answer it! I reply to the person and tell them to ask the person they should ask in the future, if I answer it, then they will ask me again and there will be no order and just tons more emails for me.
Separating work from home – I am a big fan of coworking offices, and am glad to hae been part of opening SZteam Shenzhen coworking…as I believe flexible working is the future. We all got excited how cool it was to work from our homes, from cafes…but we need that separation from our personal lives in order to maximize our efficiency. And I am trying not to be tied to an office, I also want my team to be able to work from anywhere, I trust them and want all of us to be goal oriented and if they can work more efficiently at home, then so be it. But by me separating my work and my office – I am getting more done.
Staying in one place for a bit – last but definitely not least….I think finally staying in one place (this time Shenzhen) and getting a daily routine and flow going has helped. Its only been since July, but I am rocking work and trying my best to get projects done before I go to USA.
Some of my friends comment that I'm always on my mobile….but then again, I am able to travel more, and get tons more work done. Its just adjusting to this new mobile lifestyle…all of us are learning it.
And the battle of chinese and american emails…I want to continue to be the bridge from east and west….and being able to master emails and communications myself is critical.