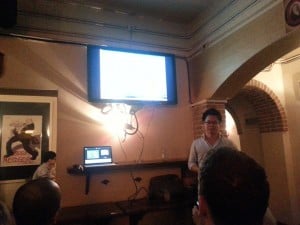 I was lucky enough to have timed my Beijing trip to make this past Lean Startup Beijing Meetup group event this past Wednesday. The theme was around how startups with an international focus can build starting from Beijing.
This is interesting for me, as Social Agent is a cross border startup based in China. Also, I assume everyone knows, but will state it, there are significant challenges to do business in China, and doing a startup anywhere in the world is a challenge – so putting those 2 things together makes it seem astronomically difficult – so I am here to listen and know I'm not alone!
I took notes (via Evernote on my mobile) and will share those below, but first let me share the original agenda and outline from the Meetup group, (http://www.meetup.com/Lean-Startup-Beijing-China/events/140010702/ has the original details):
Building a global business out of Beijing

2 great speakers for our next Meetup on Wednesday Sept.18th, giving tips and answers your questions about how to build a successful global business out of Beijing.

• Oliver Lo, VP Marketing at App Annie

Oliver Lo is a digital product and marketing executive currently heading up marketing within App Annie, the industry leader in app store analytics and market intelligence. Previous to that Oliver headed up one of the product teams within Zynga China. He managed the successful launches of social games such as Farmville and Zynga Poker in Chinese on Facebook and helped the company launch in mainland China.

• Edwyn Chan, Founder and CEO at Spottly

Edwyn Chan started his own internet company in 2005, Concept Idea Technologies, while studying for his MBA. CIT was in the business of Web 2.0 consulting and was best known for its blog research project blogku media. Early this year, Edwyn set up Spottly, a mobile platform founded by 500startups.
First of the 2 to speak was Edwyn, so I will share his notes first:
First, doing a startup in China, you should first look at your team, and if you have at least 1 local Chinese on your team to justify you being here – else, why are you here?
One of the hardest things to find in mainland China is design, use Dribble.com for finding designers. Get a paid account to save a list. Outsourcing design is ok, outsourcing your product (programming) is not, if that is your core competency.
Gunderson (gd) legal to leave fees til a Series A round, so use them!
500 startups was the accelerator program he just went through, and he highly recommends it.
He uses Onesky for language translation / localization….simply upload language file to find translators
All 11 languages in 2 to 3 days
SaaS products he uses – Aws use tokyo location….. not singapore too slow for Mainland China. Google voice, Instagram, Facebook, Strikingly, Foursquare
Fundraising isnt easy!
Angel list, Build up credibility then they push you investors. You can search by location. There are some in Hong Kong and Singapore. Most seed level angel investors in China dont care about international startups, they are mainly focused on domestic China startups. Maybe also because they don't understand international business so they don't invest there. Or their fund isn't allowed to.
Seed round is the hardest!!!!
---
Next up we had Oliver lin from AppAnnie.
When he joined in 2011 he was 6th employee. Now they just raised Series C from Sequoia Capital (that night it was announced!)
Oliver went through a few points to emphasis an international startup.
Brand
Niche to mass (started targetting game developers w/ an "Anime" style logo)
During re-branding found an American illustrator located in Beijing and worked with him for 3 months worked with them to make the new "annie" brand.
People started noticing us more, seemed more professional/
Influence
Top down
Bottom up
Core content!!!!!!!
Insights if data. Data team. Analyst from comscore
Quarterly reports
Distributed it to…… grassroots up
Write How tos. Example how to Optimize rankings in an app store.
Went to press, silicon valley. Because its at top of influence, if you start off as local. … hard to shake it off…. flew to sf every 2 to 3 months. Learn about the stories they were writing about
B2b companies! !!! Build standards!!!! Notice they are not there
Create standards! !!!!!!! Industry
What people need to compare themselves too
To see who is the best
Build reports
And build it in products
Get organic coverage
They come to you
Launch monthly index. The press knows its coming
Choose global investors
Sequoia
Greycroft
Idg
Infinity Japan
E ventures
They were their customers. …..
Quality of vc
Scale your talent globally
Use china for your advantage
Develop a company culture! !!!! Important
Employees take risk without equity.
Hr standards are low in china…. use that as a recruiting strategy
Final thoughts
Building from china is possible.
Audience feedback
When recruiting, and a person is nervous to join you over a more stable company, tell them yes, there is a risk – but the biggest risk in life is to take none at all.
My Own Takeaway Points
Take a San Francisco trip?
Part time freelancers in sf.
Company culture, write it out.
Research appannie
Special thanks to Shlomo Freund from www.StartupNoodle.com for keeping this group together, and those interested in joining the meetup group, here you go: http://www.meetup.com/Lean-Startup-Beijing-China/.