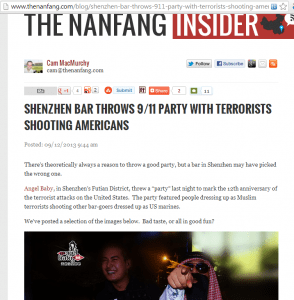 I've been receiving messages from American friends in different parts of China asking me if I saw / heard about the party in Shenzhen (where I'm currently living) that was an anniversary party for the September 11th Attacks At the world Trade Center in NY. Horrible, I was just across the river in Hoboken, NJ during that nightmare of a day that I still have recollections of in various nightmares. I have blogged about my experience on that dreadful day a couple years ago, and getting messages from friends here in China about this party on its anniversary….is so unnerving.
Maybe those party organizers didn't have the same emotional effects as others on that day, and thought this would be a good, viral event. Maybe they are excited its getting this news coverage – though I'm not exactly sure its getting them the PR they expected.
Its embarrassing for me to be in the same city as Shenzhen – as even now this city is negatively looked upon by my friends in other Chinese cities.
The article I was receiving is here http://www.thenanfang.com/blog/shenzhen-bar-throws-911-party-with-terrorists-shooting-americans/
 
SHENZHEN BAR THROWS 9/11 PARTY WITH TERRORISTS SHOOTING AMERICANS
Posted: 09/12/2013 9:44 am
There's theoretically always a reason to throw a good party, but a bar in Shenzhen may have picked the wrong one.
Angel Baby, in Shenzhen's Futian District, threw a "party" last night to mark the 12th anniversary of the terrorist attacks on the United States. The party featured people dressing up as Muslim terrorists shooting other bar-goers dressed up as US marines.
We've posted a selection of the images below. Bad taste, or all in good fun?
One of those kind of days I wish I could put out of my memory, this is not exactly how I like to be reminded of it.