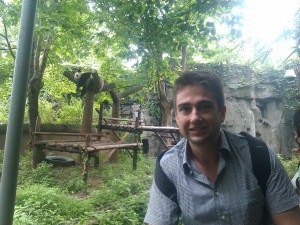 They told me it could not be done this weekend, but we made it happen – took a quick Saturday morning trip to the Chengdu Panda Research base. It was a bit far outside the city, taking about 1 hour by taxi each way (40 yuan fare)….not leaving too much time in the park before getting to the hiwto ecommerce meeting in the afternoon – about 1 hour in the park, with 2 hours round trip taxi trips.
I just couldn't accept coming all the way to ChengDu and not seeing the pandas! Pandas just make me think "China" and I am almost embarassed I have been in China so many years and not see these national figureheads.
Last night was a bit hectic, arriving 4 hours late to Chengdu airport (there was a heavy rain, almost typhoon throughout southern China)…supposed to have landed at 6pm, but instead 10pm, arriving to hotel around 10:45 and having a late dinner with other ecommerce meetup attendees. '
I was using Weibo a lot (the Chinese twitter ***** ) and I mentioned a famous dish we had….
RABBIT HEAD
….yes…I had no idea this would be on the menu…but I am told its a famous dish in Chengdu and Sichuan province.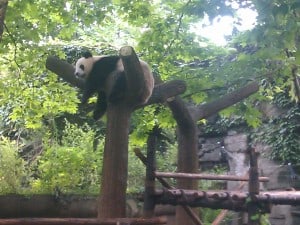 Anyway, so after the food, rabbit head, and beers last night, woke up rather early to head to see the pandas. Luckily I met up with another ecommerce meeting attendee, Richard Song from Sirio (sirio-usa.com) and he accompanied me to this Panda sightseeing excursion.
So the one hour each way by taxi took more time than actually being there, but both Richard and I had a great time. It was also a good time to meet him, his english was great (when I met him last night in the hotel, I didn't know he could even speak english!) and he has his son in California that has been living there most of his life. Richard is living in Foshan city of china and does many B2B trading of outdoor furniture.
Arriving at the Panda research center, the entrance fee was 58 yuan each for adults….so many people there. I was being told since the Kung Fu panda movie there has been an overwhelming surge of visitors to this panda park.
Seeing the panda, though I couldn't touch it with my own hands, was really awesome! It did resemble closely the cartoon character.
There were different areas for the adult pandas, baby pandas, and "teenager pandas". I could notice the pandas shy away when there were large groups of large children shouting and screaming.
Luckily Richard and I found some quieter areas of the park where the pandas would get closer to the fences, not minding us too much as we were quieter and not annoying.
Now I really feel a lot more like I have "seen China", my Chinese friends at this ecommerce meeting thought I was crazy to go so far out of my way to see pandas, but it signifies that I have seen the landmark of China.
Only spent an hour there, but enough to see the majority of the pandas and the pond, as well as some red foxes, flying turkeys, and crazy Chinese tourists 😉