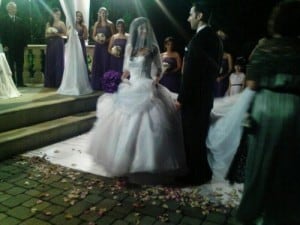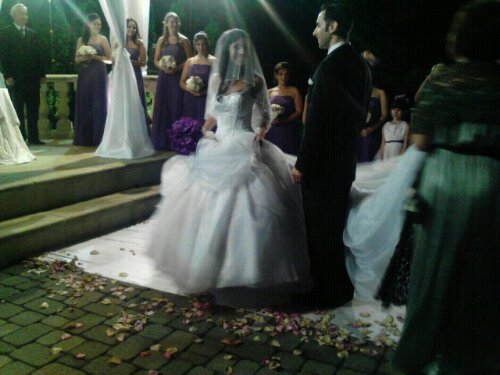 Sounds like a movie title, "my friend's jewish wedding". I'm a day behind in my blogging on this wedding, man that wedding was worthy of being on television – they held no strings back!
The main reason I flew back to America was for this wedding, the last of the "crew" in my college ring of circles…Julian got hitched! A really lucky find, I met his girlfriend (at the time), Tanya, this time last year at Tayan's Indian wedding.
I flew into LA first to spend a couple days with my business matters in the ecommerce warehouse, taking a red-eye (overnight flight) from Los angles to Newark, NJ on Friday night, to arrive 630am on Saturday morning, the day of the wedding. My business dinner w/ Lisa and her husband in LA (mexican is my favorite) was a bit longer than it should have been…causing me to rush to the airport, the gate checkin had already closed, and with 30 minutes to spare, they called the gate and allowed me to check in…rushing through security, asking people in the line for me to go to the front, realizing i needed to get a boarding pass before security, rushing back to the checkin counter, going back to security…i made it for the 10:30pm Friday night departure from LAX to EWR. My bad luck and lateness forced me to sit middle seat in an unreclining seat next to a snoring older man and a sleepy woman who blocked the aisle exit for me …The airplanes headset / music system wasn't working, so I luckily was using headphones as ear buds to get a couple hours sleep on the plane.
My 2 good friends, Giuseppe and Tayan, picked me up at the airport, Tayan had driven up from Maryland with his wife Shanti (the couple that got married last year ) …got a NJ style bagel with tons of cream cheese, a couple coffees…we went to Giuseppe's house , and we all put on our tuxedos for the wedding party. HOW DID I GET MY TUXEDO? I had to fax in a credit card authorization and the measurements (nope, no email…) like it was the 1980s or something…but anyway, I got it done, and Tayan and Giuseppe helped me out and picked it up on my behalf the day before.
We had to arrive at Julian's house by 12noon, so we left Giuseppe's house fully dressed around 11:15am. Julian had bagels and coffee waiting, and we stood hung the house until about 2pm, where we took a limo to Tanya's (the bride) house nearby. Luckily, being a Russian wedding, there was no shortage of vodka at all these various stations…and its loosened up the wedding party a bit.
Photos at Tanya's house, we left around 4pm to take about a 1 hour drive to the country club where the wedding would take place….running a bit late getting phone calls as we drove up. But it was a HUGE wedding party
10 groomsmen
8 bridesmaids
All in the limo….so it was an interesting ride up, drinking and chatting with various friends and family members from both sides of the family.
Arriving at this luxurious country club bordering NY state and north NJ, the guys waited in the "powder room" (is that what you call it?) and had snacks and drinks while the wedding planning was going on.
About 6pm we started taking wedding photos outside, a beautiful scenery with a water fountain and a huge pool …I am sure those photos will be treasured for years to come.
We then practiced the wedding ceremony, coming down the aisle, pairing up with our respective bridesmaids, and then by 7pm we rushed to the main lobby to greet guests.
I was wondering why it was a night wedding, and from what my Jewish friends told me, because its taking place on the Sabbath (Saturday is the Sabbath in Jewish culture) that they cannot work on this day, and a wedding is considered to be working…so we have to wait until nightfall until the ceremony can start.
After the greeting time in the country club lobby, all moved into the main reception hall where there was an extravagant buffet / cocktail hour for 1 hour. Sushi, prime rib, various tables with food from all different parts of the world…simply amazing.
8pm the wedding ceremony was to begin…and the wedding party got setup to enter the outdoor wedding placement.
Believe there were about 200 guests from both families, and photos and cameramen everywhere. This has been my third Jewish wedding (attended my friend Jerry's in NYC a couple years back, and my buddy Greg's wedding in Chicago) , so I was a bit prepared for the various cultural motions.
My favorite is the end, when the groom steps on and breaks the glass, saying Mosltoff, and kissing the bride and the wedding is over. Also carrying them up in the chair on the dancefloor is awesome! I also noticed in this wedding when the bride entered, Tanya, her mother, and Julian's mother circled Julian (the groom) with Tanya making eye contact each time she circled in front of him. Also noticed the Jewish contract that promises the binding contract of marriage between the couple. They did a good job of keeping traditions strong.
After the wedding ceremony we exited the room and were welcomed into the dining room being announced in by the band and MC…again, like a movie. The huge wedding party then made the "bridge" for Tanya and Julian to pass under as they entered the wedding reception hall.
Dinner started about 11pm, but people were so excited that they wanted to dance instead! It was amazing.
I just love witnessing all these different cultures, and weddings are a big time to show them off. Last year I also attended a Filipino / Chinese wedding in NY, Indian wedding….Jewish weddings, shows life is beautiful….
one of the main reasons I came back to usa was for my friends wedding…being away from America so long is changing me so much…….seeing my friends….realizing how different everything is.