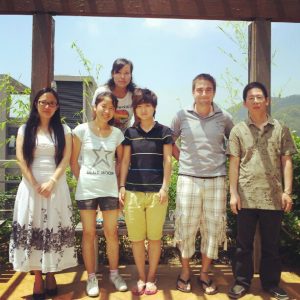 Feel like a torch bearer….grabbing as many notes, ideas, connections as I can in my mind to pass along between USA and China. Love it, and its become what I do for a lifestyle.
Two full days this week in Shenzhen, China before heading to USA on Wednesday and I jammed as many meetings and work sessions as I could.
Monday I spent the day with HeroMeetsHero.com , the Foreign Trade Federation that I'm working on introducing to Americans since the beginning of the year, going through how our cooperation has gone since December, ways to better work together. EXCITING news is we are planning a massive B2C from China e-commerce conference, an annual meeting, Oct 11th to 12th, and I am working with them to make a 2 or 3 day pre-event for foreigners visiting China – to visit factories, e-commerce companies, logistics companies, lawyers. Doing the things I wish were here in China when I first came!!!
It takes a lot of communication. A lot of talk. A lot of back and forth. Cultural differences. Patience. Understanding. TIME. A lot of those items here are my weaknesses – so its been a challenge. But I am up for challenges.
Then today, Tuesday, spent the morning at Chaihuo hackerspace to meet the Shadstone consulting team before I went to USA. Some team building, but miscommunications and ended up getting a haircut before going to USA. Dug through tons of emails (hit inbox zero!) and just getting everyone in sync.
Startup Tuesday was tonight, my good old friend Huck Liang was presenting on "How to Start and Operate your B2B" ….he always keeps it real, tells it how it is – and has a mission not to "Cheat" foreigners and make it clear business. He helped a lot our mutual friend Alex from Brazil begin his sourcing business. Maybe he will make a training business to teach B2B business practices.
That is why I am sticking to this "China dream not being over". Its such a challenge. So many differences. And China and USA are such massive economies, that cannot live with each other, and cannot live with each other.
Getting excited for my flight tomorrow. Living the dream, working hard, and trying not to stress out in the meantime.