In Shanghai, I am spending a lot of time with my friend Mike song, who now has a 18 month old son in the photo. Funny kid, very smart and friendly. Doesn't cry except when his daddy leaves the home. Spending a few years in China, I have been submerged into the culture. Even more lately…I rarely spend time with foreigners (non-Chinese) seems most of my time is with Chinese people more then ever. But hey, I am in China, right, it is how it should be. And I learn the most.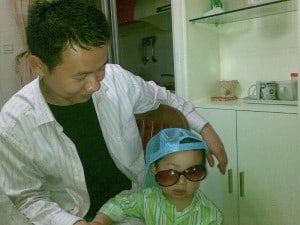 So in Mike Song's home, his son grows up with the Chinese culture. OBVIOUSLY, because he is Chinese born in China. BUT, my noticing the still rather clear differences in culture between East and West, this young boy will grow up surrounded by Chinese people, culture, and traditions. He will get accustomed to eating the local foods in china that people in USA would think is disgusting (duck neck, fish head, goose liver), and he will hear from his family and neighbors the mindset and perspectives of the Chinese people.
And this is why I think we will still have some time before the world is….how do you say….more homogenous. More connected…..more aware……
Maybe in his school he will meet more foreigners. The first time his son met me, he was a bit shy and afraid – now he is really happy to see me (who wouldn't be, haha!) but again, the family told me he doesn't meet many foreigners. So…..in his early years growing up, he will not be surrounded by various cultures and perspectives.
I am not saying this is a negative thing, of course it is great children grow up in their culture with a loving family to carry on their family traditions.
BUT THIS IS THE EXACT POINT – to carry on family and cultural traditions. This is why I am questioning the amount of time it will take for their to be a "single society" and "the world is flat" concept to reality.
This baby will grow up in a Chinese school, in a Chinese home, surrounded by chinese people, chinese culture, holidays. Maybe he will see some television from USA, or hear stories, and of course watch USA DVDs, haha. But will he get the perspective of an American baby growing up., and vice versa?
But my idea is that the next generation growing up, will they be more open minded to other cultures? Sure the internet and technology helps people share and see information from all over the world more quickly, almost real time….but does that change their ENVIRONMENT around them, and the attitudes they grow up with
Just food for thought.