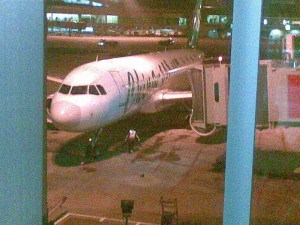 I guess I am getting too confident on my chinese traveling skills, hit a bunch of speed bumps last night….I tried saving money to shanghai and booked a night flight leaving around 10:30pm. And of course, like normal, there was a flight delay – for "flow of flight control" per the repeating PA announcement in Chinese and English. There was a HILARIOUS older chinese man screaming on the top of his lungs. Wish I could understand more of what he was going on about, but basically that he was promised the flight would be on time, and now another delay. The security guards didn't even try to stop him, they just watched him – and one of the male check in workers started yellin back. Felt kind of like a high school fight at the lunchroom cafeteria, with onlookers crowding around and standing on chairs.
Another annoying part was this new airline, China-sss.com (spring air) made me check my bag….normally take this as carry on! China Eastern, china Southern, and others never give me a problem with the size of this baggage. So I had to check it before I boarded the plane. I knew that was gonna waste an extra 30 minutes of my time when I arrived in shanghai.
Got to Shanghai, rainy and pretty cool (especially compared to hot and humid Shenzhen). But was rather refreshing as I like the night rain so long as I have a roof over my head.
And, as expected when I was forced to check my bag, the luggage line machine was broken….and delayed. We are talking landing in the airport around 1:30am, to be told the luggage line machine was malfuntioning and we had to wait.
But at least twitter was with me, it keeps my brain thinking instead of staring around blankly at people getting stressed waiting for the luggage. I really love using it to chat to all kinds of people, read motivational quotes, I wish everyone would adapt and start using it as well. It really can spark your imagination – sure its a bunch of text (LAMMY, I KNOW), but it forces you to write a short message, and to think about it.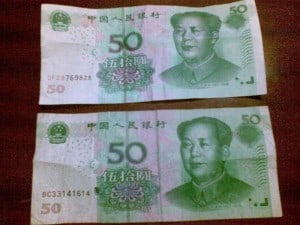 So after finally getting my bag (and tweeting tons) took a rainy night taxi, was actually kinda cool and made me think back to the days i drove home after my job in high school in connecticut….just had a strange aura about it.
I was supposed to stay at my friend's home, but again miscommunication with his Chinese-english and my lack of understanding culture (still, after 3 years) he said his home was full and he would arrange a hotel. But I didnt understand clearly that he was waiting there for me, and had already booked the hotel upstairs!
Arriving at the hotel, I gave the taxi his fee, including a 50rmb bill, but he called me back to the car yelling that it was a fake! Looked the same to me…damn i musta gotten ripped off at some point that day.
Arrive to hotel around 2:30am, and my level of chinese couldn't exactly decipher what they were saying…but basically that i couldn't get a room. I didn't want to call my Chinese friend, as I felt he was fast asleep and I could work my way out of it. But I get so frustrated, there is some rule or prior arrangement I needed but I couldn't get it much clearer then that
Walked down the road on a rainy night and stayed at "cash only" hostel….barely even checked my ID. It was great! no questions, money, key, room.
Morning, woke up exhausted and sick, think the rain and stress just got to me. Been taking medicine most of the day today and have had to slow down my schedule.
Meeting my chinese friend, I then went back to the more reputable hotel….which turns out because of this Shanghai expo, they are requiring all foreigners to register with the local police before checking into the hotel. So hopped a cab to the local police department and got my documents. You think if the Shanghai city was preparing for all these foreigners to come, they would make it a bit more clear at the hotel check-in process. Anyway, blame me, my fault.
Taking some medicine tonight….laying low, had to re-arrange some meetings for future dates and need to re-cooperate.