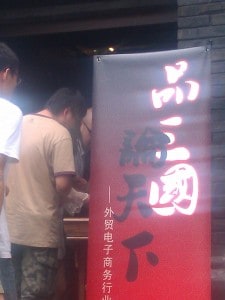 Took notes at the weekend's hiwto Chinese ecommerce meetup, my raw notes from the translator sitting next to me are below. Pretty interesting stuff.
started with tea, networking, name card trading
face mask dance, opera.
===============
intro:
Paul intro:
made in china , brand known around the world.
north china expansion
more foreigners to understand this group.
purpose of hiwto – small meetings, get together to share opinions, ideas.
—–
next speaker:
Milanoo boss speaking, CEO
our dream to sell made in china brand around the world.
share the same dream here together today.
to be the hero in China history.
share his opinions, first the b2c trains
philisophy of Milanoo company
– trying to build a modern, online "silk road", Like the silk road in
Chinese history.
– Jack Ma said its the most difficult business in the world.
– we have different language in website, french, german, italian, etc
Cost of company is growing. Some companies in HR cost is growing. Some consider to move manufacturing outside of China,
SO WE MUST CONSIDER THE CHINESE BRAND. This is how we can save and keep up with the economic changes.
For example Taobao B2C brand, aka "Tao Brands" that grow up from Tao Bao, do not have the high costs as they are built online.
Example – Vanco chinese brand, very famous in China.
We will meet the bottlneck during development (translated "neck of the bottle")….. Ping Ji
Next the host interviewed the CEO of Milanoo, company history, 2008 founded. choose fashion clothing, the name Milanoo represents italian fashion (from the city name Milan).
Question and Answer:
Campaign to bring customers to Chengdu to see China and the Pandas. budget is $5,000usd each winner for their trip.
Then we went to open discussion, giving ideas of new products and services to use in the ecommerce sector.
Discussing the return processing in USA problem. How to handle the RMA cases. Let the customer keep it and refund it, not ask the customer to return the item, because they are so big.
Fraud prevention is also an issue, both in delivery, as well as customers lying about not receiving the product, or bad quality when actually it is good quality.
Quality is key.
Made in China is improving steadily as Chinese manufacturers have learned QC practices during OEM brand.
Another interesting thing is the "round table" was all men. There were women who attended the event, but sat outside of the main circle. Maybe because its IT and tech, but also maybe because this is still how a lot of China business still is, man-oriented.