man, I am trying to submerse myself into the culture to learn how people live….but this past weekend took it to extremes! Marie, Jennifer, Analou and myself went on a weekend trip to Batangas. After night shift on friday night, we left around 7am, packing up light backpacks with swimsuits and a change of clothes, it was exciting!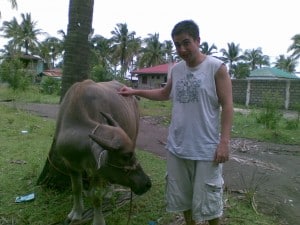 Unfortunately, we were advised to go on the wrong bus, and then had to take about 4 transfers of buses / jeepnee and then tricycles to get back on track…….was rather eye opening on the reality of the fragments and dispersed infrastructure and transportation systems in this country. Arriving to the "resort" around noon….we were all exhausted and caught a nap.
Talk about SECLUDED. There was NOTHING, i mean nothing around……only the resort kitchen could prepare food for us, and there wasn't wifi or internet at all. I couldn't even connect my mobile phone's GPRS to the satellite from there. As it was just after a typhoon, they advise not to come to the beach until at least 2 weeks after, as the sea has brought up a lot of "rubbage" that has washed on shore – which for sure it did. But we had a bonfire and met with the staff (as no other tourists were even there!)
Water buffalo were roaming around, got to catch myself with a photo of one that is here. Just am amazed the few things people can live with. Some of these people are born here and probably never leave. This is what they know. Chickens clucking around near the sea, catch different fish each day, and just enjoy life…..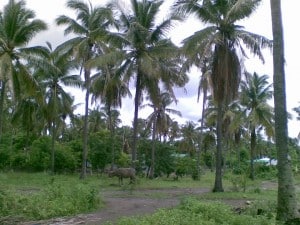 Then suddenly, IT STARTED TO RAIN. And it came down fast and strong. Everyone ran quickly back to their huts to get some rest. I love sleeping in a rainstorm, so that wasn't a problem…..slept like a baby (plus I was exhausted anyway) and woke up next morning.
After breakfast, we hit the road. Another person from our new office, Louie, had his home nearby in Laguna, and we promised we would stop by for lunch. MORE CONFUSING directions, a couple extra jeepnees, and more rainfall, we arrived after about 3 hours to Louie's home in the city Calamba, in the Laguna province. Nice home there, he has a nice wife and a beautiful baby girl. FIRST TIME HIS DAUGHTER SAW A WHITE PERSON. And she cried as soon as she saw me….man….normally babies laugh at my stupid face….but this girl was bawling. Maybe my normally funny faces and joking animal noises scared the girl.
We only planned to stay there a couple hours, and then we had Marie's brother's birthday back in Manila that night. The family had prepared special dinner for me….being a foreigner they wanted me to try something. But we never MADE IT. We stayed overnight in Louie's home…..it was too late to leave at 9pm…and too dark. I insisted I would go, but Louie chimes in:
I don't think its a good idea if you, a white guy, goes to the bus station at night with 3 drunk (tipsy from shots of GSM liquor around the karaoke tv in his living room) filipina girls, Louie says. I guess I have to realize I have no idea where I am still in this country, and it is rather scary here in the Philippines at night….so I couldn't promise I could do a good job watching over the girls as I went into a crowded bus station in a foreign city in a foreign country!!!
So while the girls stayed at home, Louie, his 2 local friends, and I hopped on their motorbikes and rode off into the rainy night to check out the local bars. Man….it just didn't feel so safe on that speeding bike. Holding on, I hung with the boys for a night on the town. I ate some kind of cow stomach soup to end the night. There was a "tough guy" picking a fight with us because Louie and his friends were speaking english instead of the local language Tagalog. Anyway, zipping off on the motorbikes, we returned to Louie's home at around 2am (oh yea, and a beetle smashed right in my eyeball on the ride back, almost fell off the bike it was so heavy!)
Sleeping on the couch a few hours, we woke up at 6am Monday to catch the bus back to Manila. Louie told us it would only be about 40 minutes, but due to highway construction, it may take longer!
He maybe should have taken us to the bus station, because I swear we got on the wrong bus (AGAIN)- completely packed bus, I got pushed and jammed my index finger into a handlebar on the bus seat…..big bruised cut up finger right now.
BUS transfer, traffic jams, I had to go to the bathroom, and its not a problem to just hop off the bus and go on the side of the highway during this traffic jam.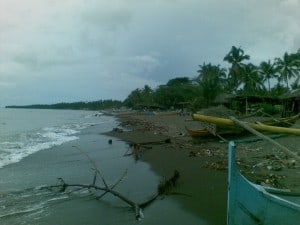 Smoke in my face, the non-air conditioned open aired bus was just a magnet for all the soot and exhaust from the highway around us. Making it back around noon today, I tried to wash off all the fumes and exhaust from me and crashed to sleep….
I can't believe people here CAN DO THAT EVERY DAY
I really was frustrated, the feeling of:
NO MONEY – I had only brought cash, and it wasn't enough after all the delays and re-routing….so I was borrowing from friends.
NO CELL BATTERY – due to lack of electricity, I didn't have the opportunity to charge my cell phone…so I was running around without a cell phone
TRAFFIC JAMS – everywhere….too many cars, no train system, and highways always under construction….government doesn't seem to care about investing in its infrastructure, or public transportation. There is only 1 train line in the whole country, and its overpacked…I see it pass me by on the highway and they are like sardines….jam packed in those train cars.
HUNGRY – because we're always jammed in traffic, it was hard to get time to find food. Oftentimes there are hustlers jumping onto the bus to sell you their food….but not my type of apetizers….
TIRED, STRESSED – just the volume of noise, motorcyles, "barkers" (independent commissioned sales agents who get 1 peso for bringing customers onto the buses), and just overall chaos constantly…..it is overwhelmingly stressful and straining
NO CONTROL – seems almost everyone is at mercy of their environment…..I need control, but these situations we were in, no one could control. No one to improve, no one to listen. Government doesn't seem to be investing in new highways or more public transportation…
At times, I felt like I was on hell on earth. Really, not sure how people can be surrounded by that manila traffic day in and day out….
I blew my nose…and it was just black filth….horrible.
Ok, enough venting….what a rush, i definitely felt like a local…..and respect these people for being able to endure this day in and day out……I could barely stand it for a few days…
(originally posted July 26, 2010)