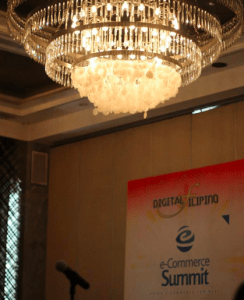 About 100 people there mostly dealing with domestic filipino internet and ecommerce businesses. Again, like the manila coworking space I saw last night, I wish I knew about these networking groups and entrepreneuer spaces back in 2010 when I was investigating doing business in the Philippines. I love networking, and learning alongside other creative, hard working people. I believe that is a key part of why Silicon Valley and other tech-spots succeed, because they have a dense population of creative, hard working entrepreneurs around them. While this is just now developing in the Philippines, I may have came to early in 2010 I still support it greatly and will try my best to blog and visit as much as I can to Manila
As I blogged earlier, a big part of my trip down to Manila was for this digitalfilipino ecommerce summit and I was later asked to speak as well! All very exciting stuff and it was a full day yesterday. I'll do my best to recap it for those who weren't in attendance:
A wide range of people in the audience, some that I noted when we were going around the room was 7-11 payment system, a mba from singapore who is back to build up a call center, max restaurant (one of Philippines largest restaurant chains) web e-commerce team head.
Then we went into speakers. Using my evernote, I scribbled down notes and key sentences that stuck!
E-Commerce, Search, Local, Mobile, Social Models and Trends for 2012
Gillian Muessig, Founding President of SEOMoz
building community
shared goals
shared experience
—> the more intense the experience, the more intense the community.
1981 Gillian started consulting, kids at foot of desk, and taught and shared with them
1993 joined market link international
1993 Rand joined SEOmoz
bubble burst.
rev share projects, identified niche products
blog every day, shows CEO tenacity, perseverance. show that you are there.
its OK to share…
there is a difference between a client and a client wannabe
wannabe cannot pay, let them read, once they get big enough, they will go to you as the trusted expert
humans like consistency
whiteboard friday
DWELLING….will be a key factor in the future of Google SEO
LANDING PAGE is critical
make people stay on your landing page, and don't click back to google. Google can measure this.
marketplace , moved to linked in
—> to focus
B2B, establishing yourself as the center of your community.
build it and they will come, NO, build it MARKET it, and they will come
CEO builds value for the company
be the center of the conversation!!!
not interesting if they are just talking to you
SHARE
people talking to each other, supporting each other in their businesses, on your platform.
they have to come to you to speak
State of E-Commerce in the Philippines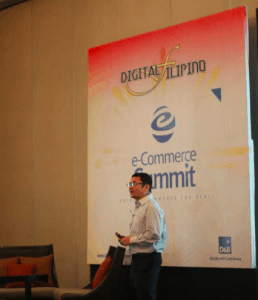 Jack Madrid, Founding President of E-Commerce Merchants Trade Association of the Philippines and General Manager of Multiply Philippines
cebu pacific is driving commerce (tourism)
45% hotel
air tickets 38%
clothes 14% (cosmetics / shoes) —- biggest on multiply
payment systems
53% is cash
36% is cc
group buying also helps make offline decisions
Lets compute
30 million
3% commerce users
= 900,000 people
lets say 80% tell truth
720,000
X p1,500 per transaction
x 4x per year
=
4,320,000,000 peso per year e-commerce market currently in the Philippines
that is < 1% of total PH retail market
that means e-commerce in the Philippines is still barely in day 1! Lot of development and growth opportunities.
multiply also offers their products to the global market
BORDERLESS shopping communities
shipping is a common reason for exiting carts
pay on delivery is an option
State of Digital Marketing in the Philippines (Making Customers Buy)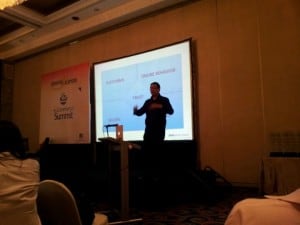 Donald Lim, Managing Director, MRM Worldwide
marketing is moving towards EMOTION
doggelganger
matched with a dog to fit your profile…..upload your photo
help homeless dog
tweeting fridge – to reminds you to drink water when u open fridge
coke friendship machine, 2 for the price of 1, but the money deposit is high enough that you need to be boosted up by a friend to get it
Erick from shopinstallment
A system to allow Filipino online shoppers to buy without needing a credit card, and with monthly fixed payment installments.
After lunch I did my presentation (pics coming soon, they used a non-internet ready high-res camaera and video)
Digitalfilipino presentation on getting seed / angel investors
by Michael Michelini
I uploaded my files to sideshare for those who want to go through them, and here is the transcript. Hopefully they will have the video ready soon to share.
1. Attracting Investors for your Business Tactics & Experiences From the field. Michael Michelini 迈理倪
2. Today's Agenda Understanding the mentality of an investor Building trust Why do you need investment? What are you willing to give up? After the investment Real experience – spyble Real experience – NewYorkbarstore New project – ClearCafe
3. Understanding Mentality of an Investor Investors come in all shapes & sizes Believe you should first look for angels / strategic partners in the west. It isn't always directly cash investment Can be also strategic partnership in sales / operations They normally want to be sure You are reliable You will be there when times get tough You are on their side
4. A Business is like a Ship Boat – infrastructure. your product /service Map – strategy Wind – finance / financial investment Sailors – your team
5. Crist (Jesus Christ) Formula (C x R x I) / S = T —- CRIST C = Credibility R = Reliability I = Intimacy S = Self Orientation T = Trust
Another acronym I always remember is CEO, which you may think is Chief Executive office, but actually its Customers, Employees, & then Owners.
6. What do you need the investment for? How much? Why, for what? Development? Inventory? Marketing? How long for payback? How long will this last? What do you currently have? Upfront? Monthly?
7. Investors from various sources Customers Suppliers Mentors Agents Trade associations Governments Be creative!
8. What are you offering? 51%? Control Financial obligations Deliverables Pressure TIME! Will spend decent amount of time with investor Technical? Marketing? Local agent?
9. Rev Share Partnership MUST have trust on both sides Example 25% of adjusted gross margin (after inventory + shipping) Try to take position of power Receiving the money 5 year length You believe in the project more than the other
10. Got the deal! Now its just begun…. Don't pop the champagne so quickly… Now you need to deliver!!! You've been given a chance
11. Being Reliable Taking an investment is also taking a job Be prepared to report regularly Daily, weekly, monthly checkups? Showing the investor you are putting your full effort
12. Case Study – Finland based investor Found us online as another name Saw we were in China Wanted IT partner in Asia Trusted Us Read blogs Month to month operating budget
13. Example – NewYorkBarStore Started in 2004 in NYC apt. Had lots of open passion Complementary skillset Investment was for inventory to grow sales Investor was also aligned interests Investor was also too busy to help, though he planned to be more involved.
14. Current Case- ClearCafe I want to be angel investor in Philippines Find good talent here Good P.R. and marketing Long term investment
15. Conclusion Think from perspective of an investor What type of investor / money do you want? Realize this will be more pressure
16. Question & Answer Michael Michelini 迈理倪 MaiLiNi.com/blog mikesblog.com @michelini Weibo @michelini Facebook.com/michelini
---
After the speakers, we had the award ceremony and all winners spoke about the progress of their businesses over the year, share ideas and strategies. Janette said it was the best time of the year to get all the internet and ecommerce companies from the Philippines together and open enough to share their business success.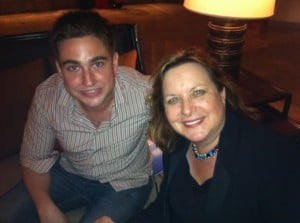 I was also fortunate enough to spend some quality time with Gillian Musseig of SEOmoz.org, she is an awesome CEO coach and has been checking up with me a lot since I first met her in a Xiamen SEO conference in early 2009. Some of the feedback she gave me is I have to be more confident on all the knowledge and experience that I have…. that not many, if anyone else has the valuable and unique China, SEO, international e-commerce experience and knowledge that I have. That I cannot be afraid to ask for, and get my price. And not to allow myself to be bargained down on price…to be confident, and not be a commodity on price. That I am one of the few people in the whole world in this position, and I'm getting old enough now that I can't keep playing games…that I need to focus, and get things done! Don't screw it up and be another foreigner in Asia with a lot of experience and knowledge and not cashing in on it until its too late!
I took the taxi with her to the airport and then back to the hotel to get that priceless chat…..stuck in Manila traffic….and seeing her off to the airport. She was supposed to stay in Manila til Monday, but has some newly developed conferences and business meetings in Europe.
After the round trip airport taxi, I returned to the Manila Peninsula hotel for a twitter tweetup meeting in the Salon De Ning cocktail bar. One of only 3 in the whole world….I tried to grab photos but phone battery was dying. Connected to more Filipino internet and e-commerce entrepreneurs, making more priceless connections and relatioships.
So exhausted, I had to leave early….overwhelmingly successful speech, networking event, and priceless CEO coaching from Gillian.
Will be in Manila a few more days to network as well as training and teambuilding with my ecommerce customer service team. Also Leon is coming back from Manila.