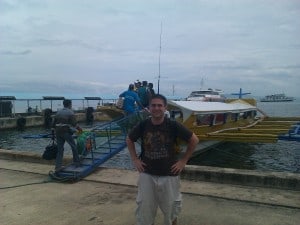 Attending this tropical mba event was a big reason for my trip down to the Philippines (I have been meaning to get down here for months), to find + network with like-minded internet entrepreneurs.
The event is the first of its kind, to be a month long networking / community / sharing session for internet entrepreneurs to get together, learn and have fun. Maybe a mobile co-working community. Just keep seeing this trend (or am at least surrounded by it) people being more virtual, more mobile…more flexible workspaces. This is a bit extreme, to live in a different city in another part of the world like a cyber caravan…and can get exhausting.
I missed a bunch of the events and networking last weekend, I just couldn't make it here and also host the Shenzhen e-commerce meetup so had to make the best choice I could with so many great events and people to see all over Asia!
Arriving here Tuesday afternoon with my friend James Sung, also coming from Shenzhen (he sells bluetooth and phone accessories took me to the bluetooth factory and was Chinese TV with me), we took a bus from Manila to Batangas pier, then a boat to Muelle (in photo) which is an adventure in itself! We spent a few days to catch up with the events we missed and people who were shaking hands and making things happen.
This isn't a traditional MBA (see my blog post who needs an MBA) but I think is a great name "tropical" for the idea of work anywhere, and MBA that we can learn anywhere in the world. I really am glad to be connecting with more people in this mindset….rather than those in the 9-5 corporate world. In order to remain full time entrepreneur, the support group and network around you motivates you to do just that.
The resort, Badladz, is owned by foreigners, who sell scuba goods online and were also members of the event. Chris Gormley, my friend from Shenzhen who sells consumer electronics wholesale was here hanging out, actually the guy who brought this event to my attention (Thanks Chris!) …and unfortunately I missed Vlad by 1 day – another guy from Shenzhen to represent! My friends Alex and Louie from Hong Kong came before the event and had to leave before it even started! Maybe more planning on my friend's side next time…..we found out about it a little last minute…
There were about 18 people who came to the program, for the most part American / White guys in 20s to 30s that have ecommerce or online businesses. There will be a private forum opened now for those here, and maybe a mastermind group.
Of course some night partying, daytime swimming events, bike riding, saw fire dancers in white beach, drank Mindori sling pitchers, temporary tattoo.
There was an open forum for each person to discuss their businesses and get ideas and perspectives from the group. Not too much structure this time, being the first one, the idea is to see who came, why they came, what they want from these events. The next one is planned in a few months in Bali, Indonesia. I hope to make it.
Its Thursday evening here, and I'm blogging on my laptop in the hotel restaurant, surrounded by other like minded people, overlooking the boats and islands.
The dream is here, keep on going…..need to keep focusing on work and try to get some fun out of it as well.