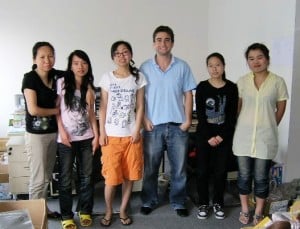 Been spending over a week here in Shanghai, with the majority of my time around ecommerce and ebay where Mike Song's office is. Been seeing how he manages his office and organizes the workflow, has been very interesting. I mentioned the other day how much I like dumplings over other Chinese food, and tonight for dinner, his sister prepared HAND MADE dumplings. After work the workers and I ate together in the office lunch table. When I entered, they had prepared me a much larger bowl then their own. Especially with the recent news I read about the suicide deaths at the Shenzhen factory Foxconn, and chatting online to so many people in USA, hong kong, and other parts of China about it, I couldn't help but think "am I selfish to eat more then they eat"? Of course they were the ones who served me, and had prepared it, but again, I get in these modes where I see organized workflow almost as a negative….to control the workplace. It seems more structured in Chinese work places then in USA – having a much more defined working job with daily tasks and, I hate to say, a more repetitive job. But this is easier to manage, to measure, to control. And I think this is where I keep having my internal conflict. My USA management, or culture, tells me to allow people to be more free minded, open, creative….but in China, the culture and the staff EXPECT a structured workflow and job description.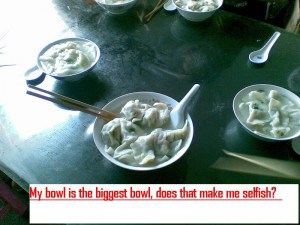 And then the news about the 11th suicide in less than a year at a major factory in Shenzhen, called Foxconn. For those who don't know, Foxconn is one of the largest factories in China, and even the world, manufacturing for apple, dell, and other major electronics brands. There is always pressure I am sure on factories FROM THESE BUYERS to keep price low. And the buyer, ie these major brands, are not going to question how these prices are maintained low…they just threaten to move their business elsewhere. I am SURE this is happening now in Chinese factories….as labor rates are increasing, costs of vegtables, living, rent, RMB to USD (foreign exchange) pressure from the United States to make it more expensive for Chinese exporters – all of these factors are rapidly increasing prices for manufactured goods here in China. So what is a factory owner and management to do? I am sure they are working hard to keep costs down, and always a major cost is LABOR costs.
But would a factory worker jump off a building because his salary is too low? That seems a bit far fetched to me. This factory is also bigger the most cities, so a rational idea is – how many suicides are there for the normal city? I have heard this perspective, and it is somewhat valid. If a 300,000 population city in USA has suicides, who is to blame? Sure, its not a factory, but if a factory employs this many people – WHO LIVE AND WORK in the factory, the factory is their life! Taht is all they know. and therefore their life is there, their girlfriend/ boyfriend, friends, etc. And I am sure there are suicides in factories for emotional reasons (which is what this factory is claiming)
Again, this is always the balance of life and business…a business owner wants to manage costs and maximize profit….and of course any worker's income is his or her salary, and they want to maximize that. then there is the overseas buyer, who wants the cheapest price, and is constantly pushing on their factory suppliers to keep their price down…..or they may take their orders elsewhere. So its the never ending struggle called business. I look forward to more results coming from this.
Foxconn shows off China plant after suicides

Foxconn, maker of iPods, opens sprawling China plant to reporters after 10th suicide this year

In this photo taken on Feb 24, 2010, a recruiter from Foxconn talks to job applicants outside the factory in Shenzhen in southern China's Guangdong province. A Chinese employee of Foxconn Technology Group fell from a building and died Tuesday, May 25, 2010, state-run media said, in the 10th such death this year at the world's largest contract maker of electronics, such as the iPod, Dell computers and Nokia phones. (AP Photo)
William Foreman, Associated Press Writer, On Wednesday May 26, 2010, 2:30 pm EDT

SHENZHEN, China (AP) — Foxconn Technology Group showed off a motherboard factory, swimming pool and a hot line center for workers with emotional problems Wednesday as the giant company — maker of iPods and other popular gadgets — tried to repair an image damaged by a spate of employee suicides in China.

Hours later another male employee fell to his death from a building at the company's Shenzhen complex, the official Xinhua News Agency reported. The report said Foxconn confirmed the death, but it was not immediately clear if it was suicide.

The company's media shy chairman, Terry Gou, earlier in the day repeatedly apologized for the 10 confirmed suicides this year and told reporters the firm would do everything possible to prevent more deaths. Nets were put on buildings to stop people from jumping, and about 100 mental health counselors were being trained.

"We need some time," he said. "But we are confident. We are extremely determined."

Gou said he has been having trouble sleeping at night because of the suicides, the latest one reported Tuesday when a 19-year-old man jumped from a building after working at the plant for about a month. The Foxconn head also said he dreads the sound of his own phone ringing after work hours because he's afraid it will be news of another death.

The tour with six busloads of journalists went through the palm tree-lined streets of the sprawling factory complex in the southern city of Shenzhen, near Hong Kong. The walled-in industrial park employs 300,000 workers and looks more like a small city with fast-food restaurants, bakeries, Bank of China branches and towering dormitories for workers.

Foxconn was trying to address allegations from labor groups that the workers were killing themselves because of hellish conditions in the factories, which churn out iPhones, Dell computers, Nokia mobile phones and many other big-selling electronics. Critics allege that Foxconn manages its plants with a strict military approach and workers must work too much overtime on assembly lines that move too fast.

Gou didn't take questions about such issues at a news conference, but he insisted the vast majority of workers were happy, and too much attention was being given to the troubled few.

"We want to make every worker have a happy life and work environment here," Gou said in a long, rambling speech that ended abruptly when he said he had to leave for a meeting.
I have to say, I can guarantee that the factory is making their staff work overtime to get the same salary they were getting before. i am sure it is an effect of the rising costs in China and the battle of worker's salary versus company keeping their profit margins vs customers keeping their price as low as possible.
Its not exactly easy for Apple, Dell, and other buyers to just pick up and leave, they have invested a lot of time and money with Foxconn for the manufacturing moulds, the training of assembly lines, the quality control guidelines. But I am certain these buyers are pushing to keep their prices from increasing in the face of Chinese costs of livings increasing.
Follow Up, May 31, 2010
Back in Shenzhen, and getting more insight and ideas about the recent suicides at the Foxconn factory here in the city. Since this is the actual city (great, the city I live in is the center of Chinese factory suicides…great PR!) I get more inside information about how come these things are happening, as a follow up from my post a couple days ago, from my talk with Huck Leung of FOB / LC Ltd.
Suicides are younger chinese – It seems that those committing suicide are younger age…..again, i have said in other posts that there are major differences in culture from generation to generation. And the younger chinese do not want to have repetitive work, day in and day out.
Japanese management style – Repetitive work, same thing every day – As stated above, younger chinese are a bit more creative and free minded, so they don't get a great feelin when being pushed around by strict japanese management style.
No friends, from village – And when they are so stressed out, and overwhelmed, they are alone in this factory, day in and day out, with no feeling of where to turn…..