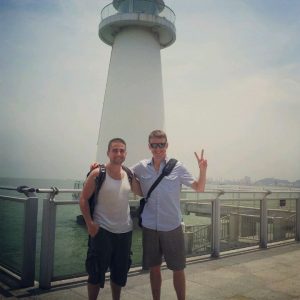 I think one of the most valuable things about going to a university is the networking you get there. While I did do a decent amount of networking while at Stevens Tech – I wish I had done even more.
Got a message from Josh Lanning, who was also in the Greek fraternity life in Steven (not a Delt like I am, but a lodger – still doesn't really matter, the Greek network helps each other out). I remember when I went to college I didn't expect to join a fraternity, I wanted to focus on my studies and didn't want to get distracted with the frat parties and other things I'd seen on college movies.
But maybe it was because my school was small, or a tech school, but joining a fraternity was a great way to quickly network. Joining Delta Tau Delta helped me get my first summer job in freshman year at kozmo.com (thanks for the hookup JG!) I went to national conferences in Minneapolis (2000) and Los Angeles (2002), got into Leadership academy in West Virginia – and I visited Delt Chapters in Mississippi, New Orleans (Marti Gras 2003), Boston, Iowa, and more I can't remember. I have no regrets joining a frat in college.
Josh is currently enrolled at NYU Stern MBA program in New York City – a really prestigious program, and his class took a couple weeks to get some on the ground China business experience. Really glad he reached out to me, and we spent Thursday mid-day together catching up on both our lives.
His MBA program didn't have Shenzhen on the agenda – they had mostly focused on Beijing and Hong Kong, I have a feeling future classes will not be able to skip over Shenzhen as this young city continues to rise up. But anyway, he took the ferry over from Hong Kong for the day. He was able to witness all the construction going on in the city.
He shared his photos in Beijing – common spots we had both been too. Its so awesome to see someone from a "previous life" and re-connect in a different part of the world. It helps me confirm that I am not crazy, and the things I notice during my daily life really are funny and adventurous.
He is a reader of this blog (guess there are quite a few hometown friends reading this blog, but not commenting, –> whats up w/ that!) and he has seen my travels in and out of China and SE Asia.
I got some of his MBA insight and advice on my current business. Of course its obvious to me, but focus is the key. He did give me some more confidence that I'm onto something here, working with foreigners (westerners) in the Chinese social media, helping them enter the market.
I'm also a bit confused about my "branding" – this blog has really helped me define and promote my "personal brand", but I also have my consulting company "Shadstone Limited" that is registered in USA, Hong Kong, and Shenzhen. Wondering if I should re-brand a new company / entity for the Chinese social media, but he does feel that creating a new brand would be a resource drain, and that I can continue to use Shadstone consulting as an umbrella corporation for this new subsidiary and service.
Sweet, I got some pretty expensive MBA advice as a hookup – connections come in handy!
It was a pleasure to catch up Josh, good luck finishing your MBA – maybe you'll cooperate w/ me in bridging USA and Chinese business.
Again, that saying I've heard is so true, its not what you know, its who you know. Seems more and more obvious the older I get.