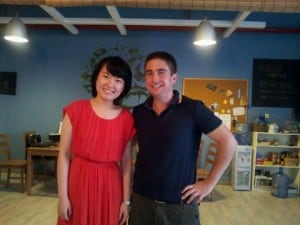 I think everyone knows I love social media and I try my best to document examples of how much it rocks! Being open, sharing your knowledge and experience is a long term commitment – but the benefits are long lasting and amazing.
Eri Cai is in China for the summer, she went to Babson college in Boston last semester and got the "fever" for startups and entrepreneurship. Her and I had been in touch on twitter @caibijia (and tons of other social media platforms) and built a relationship over the internet. I know people think I am crazy, but this is how awesome social media is- it puts like minded people together, and allows them to connect directly and easily.
She has been with us for a couple weeks now, and I thought it would be best for her to share her experience in finding me on social media, and her experiences now doing Social media promotions for Weibo with my company, Shadstone Limited.
Below is her own words:
I went to Babson College for the spring semester in 2012, which was the most unforgettable experience in my life. The atmosphere of entrepreneurship is really strong in Babson! I joined an awesome organization called Start-up Babson. We had some talks inviting co-founders over to share with us and we went to downtown Boston to visit start-ups and incubators. It was a lot of fun! That was the reason why I'm kinda crazy about start-ups.

Thinking of going back to China soon, I thought I need to find something to replace Start-up Babson. Therefore, I googled "Start-up Hong Kong" "Start-up Shenzhen" and somehow found Michael's blog! He was a funny guy and he posted almost every piece of his life! Lol. And I learned that he was involved a lot in start-ups and had incredible network. It would be great if I could know this person, I thought. So I followed Mike in basically every social media and left him a message expressing my interest in his work. It sort of surprised me when he replied! Mike said for sure I can join him! Then I sent my resume to Gabree and got an internship in Shadstone.

I thought it's great fun working in a small company and Shadstone confirmed my opinion. Shadstone is small but like a family. We can brainstorm together and come up with decisions. Everything I do is down to earth, not just copy and paste or boring works. All I expect from this internship is to know more people and involve in a small company. And I got it from Shadstone.

I want to enter a consulting firm (Boston Consulting Group or McKinsey) after graduate school. How companies make strategic decisions is quite intriguing for me. It's like playing a war game! I know it's not easy but I need to fight for this.
Pretty amazing right! I am actually constantly getting emails of people who want to get more experience in Shenzhen, China in the startup and entrepreneurship community. This is why the topic of incubator has come up, as well as some exchange programs with Americans working inside Chinese e-commerce companies.
So happy to have found Eri, she is doing amazing work already and putting some interesting perspective with me, Amy, Gabree, Eve and the whole network in the company. Interns are awesome for a company.
Eri, hope you're learning lots and hope I can help you get some perspective on a startup.