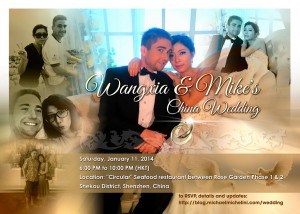 Lots of "personal" blog posts lately, I'll even it out with some business stuff soon enough. Just a lot of life changing stuff happening now! Today being single's day in China (November eleventh is all single digits – 11-11, so the Chinese like to call it Singles day), Wangxia and I thought it would be witty to use today as the day we announce our wedding.
We'll be inviting lots of single guys and girls to this wedding, and Wangxia especially is excited to help play matchmaker! 🙂 We confirmed the venue last week, it will be in a nice 360 degree restaurant overlooking Shenzhen Bay. We don't want to make an overly complicated wedding, so it is gonna be pretty DIY – people have to register online, and we'll be pushing this out all over English and Chinese social media over the coming weeks.
I do understand a lot of my friends in USA won't be able to fly in for it – we will be taking a trip to America Jan 17 to Feb 19, so hope to catch up with everyone there. But I just don't have the time, energy, or money to host a full blown out wedding in USA! Will host mini parties in my hometown and other places as the date approaches…
So without further ado, here's the rundown of the wedding:
Event: Wangxia + Michael's Wedding
Date: Saturday, Jan 11, 2014
Time: 6pm to 10pm (GMT+8 timezone – China time)
Location: Circular seafood restaurant between Rose garden 1 and 2, Shekou, Shenzhen, China
RSVP via http://wangxiamikewedding.eventbrite.com/
RSVP Today!
We are using EventBrite event system to keep track of attendees and registration. This is the bit of the "unconventional" part – we list a $50usd ticket fee – this is to cover the "gift" "hongboa envelope" or whatever. I know when I attend weddings I never know how much I should budget to gift and its always such a chatter between those attending. Hopefully this takes the unknown and the questions out of the equation – I won't be monitoring who gives us more more, etc etc.
Just simply register via http://wangxiamikewedding.eventbrite.com/
And if you can't make it but want to gift us something, there is an option there too.
Photos of the Venue
Its a pretty nice place ,I'll post photos of the venue soon.
Directions to the Venue
Its a "circular" restaurant in between Rose Garden Phase 1 and Rose Garden Phase 2. I don't know the name of it. Its in Shekou district of Shenzhen..
Getting a China Visa
Unfortunately, you will need to have a China passport visa to attend the wedding in China (well that's for Americans I know). If you're coming to China just for the wedding (thanks so much, you rock!) you can apply for a tourist visa and its not too much hassle – In the past I've used VisaRite – here is the direct link: Applying for a China tourist passport Visa
Just simply register via http://wangxiamikewedding.eventbrite.com/
More Photos