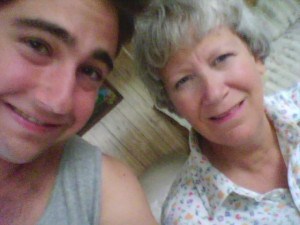 You know whats the hardest things you sacrifice when doing business overseas? Some may think the hardest things about doing business overseas would be language, culture shock, risks of not knowing people as well as your hometown / country…..nope, by far its the separation from your family, especially your mom and dad. The connection you have with your mom – she gave you life, brought you into this world, fed you, raised you, changed your diapers, put up with your crying at night, saw you off to your first day of school.
I guess I gradually got used to be away from home, sleepover weekends with my grade school friends, boy scout summer camps, Italy culture trip in high school, going away for college, working in New York.
But those still allowed me to spend the holidays with mom and dad. Put up with some traffic and holiday scrambling to get home for some good cooking and sharing stories.
Now it seems I get home once a year, if not more.
I get used to it, more and more. Keep my family and friends in my mind when times get hard. Pushing myself for them.
And grandma, Nana, I miss those weekend trips to your house, spending sometimes even a week during the summer there. Picking rasberries, playing badminton, watching baseball with Granddad, Papa.
One of my favorite memories with my mom was getting ready to go to school in the morning. It was like preparing for "battle" or something. We would wave goodbye to dad from the window as he backed out of the driveway, my sister and I would finish packing our bags, and by 8 or 8:15am we had to be out the door to walk to school.
And we would run around the house certain days, and we would sing
GO, go, go-go-go-go.
Fight, fight, fight-fight-fight-fight
Win, win, win-win-win-win
GO – FIGHT – WIN
Other awesome memories were summer school at home (I know, right?). I don't know how we pulled it off, but mom and dad arranged one of our church members, Janet, who was a teacher at a really fancy, rich school, to come certain days in the summer to our home and do "schooltime". It was only a couple hours a day, two or three times a week (if that?) but I remember how much my sister and I loved to have school there. It was because it was more interactive, more fun…..learning was fun I remember. Discovering.
And then another great memory was also during our summer vacation, matinee movie time. Matinee movie is the first movie when the movie theater opens, and its at a deep discount because its like 12 or 1pm in the afternoon, so not a popular time. We would get a few of these per month (maybe) and mom, Jocelyn (sister) and I would hop into the VW Rabbit (yes, its a car!) and drive to the local theater. Driving in the summer heat, parking in the parking lot walking up to the 12 screen cinema that upn entrance was freezing cold, smelling like popcorn and candy. The other kids running around screaming waiting for the staff to open the velvet rope so we can get seated. And it was actually not during, but after the movie that was great too. Normally we'd drive to McDonalds, and on the drive, mom would make us reflect on the movie. To discuss our favorite part, answer questions about what the movie really meant. I think that critical thinking after the movie was always helpful….get our minds thinking about the meaning of the movie.
Oh, and McDonalds….yes, I know its not healthy, and its marketing this fatty food to kids. But the happy meals, the playground, the other kids in the restaurant. The TOY inside the happy meal.
Life was really good. I miss those times mom. I love you.