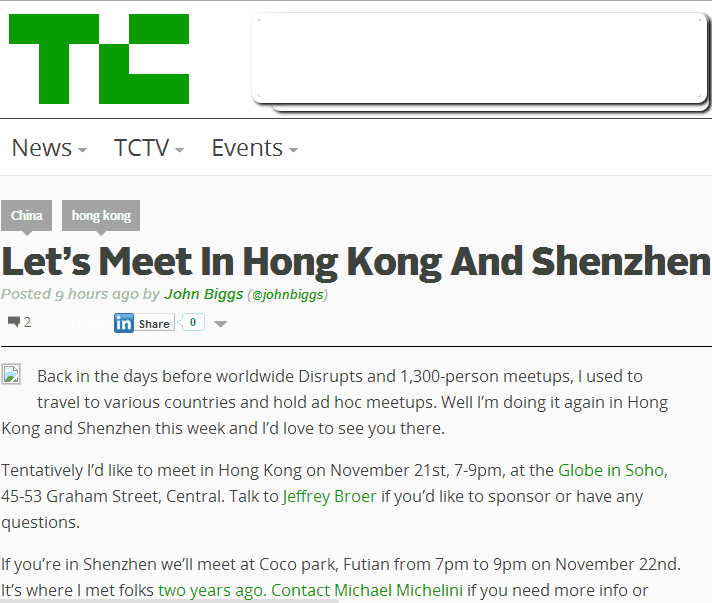 More networking! A bit short notice, but a pleasure indeed, John Biggs from Techcrunch is back in Chin (for Techcrunch Shanghai event) and then coming down to the south to do informal meetups in Hong Kong and Shenzhen to meet the local startup and gadget community!
Jeff Broer is helping to organize in Hong Kong, and I will help out a bit in Shenzhen – we did this 2 years ago when John came down after Techcrunch Disrupt in Beijing, and it was a ton of fun! We had a nice outdoor seating area and got to go around the room introducing each other, and John was overwhelmed with awesome products and startups that came out.
So John is doing it again! Glad that he is paying some attention to us in the South China region – here's his post http://techcrunch.com/2013/11/17/lets-meet-in-hong-kong-and-shenzhen/. Its a quick post, and below is the full information.
Below is the full info:
Shenzhen's TechCrunch Meetup
Time: Friday, November 22, 2013 from 7pm to 9pm
Location: Cindy's Le Bistro
Street: Min Tian Rd, Shopping Park 138
City/Town: Shenzhen
Website or Map: http://www.lebistro.me/
Phone: 755 8316 9651
Event Type: networking
Event Description
TechCrunch Gadgets Editor, John Biggs, will be hosting an ad hoc neworking event in Shenzhen on Nov. 22.
Biggs has written for the New York Times, InSync, USA Weekend, Popular Mechanics, Popular Science, Money and a number of other outlets on technology and wristwatches. He is the former editor-in-chief of Gizmodo.com
Come out and connect with other local startups, gadget fans and meet one of the key opinion-shapers in the tech industry.