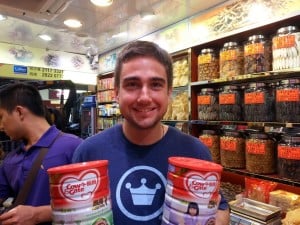 Typing today's blog up on a Saturday morning from the couch of my Hong Kongs friend's 9th floor walk up apartment (When he said apartment 9F I thought it was a elevator building!).
My life has always been an adventure, I have always kept an open mind and sought out adventure. Now with my recent marriage and child-to-be – in a cross cultural Mainland Chinese to American relationship – all those infomercials I watched on Hong Kong television about mainlander Chinese women flocking to Hong Kong to deliver their babies are becoming a reality for me. Where will my child be born? Where will he/she be educated, what language, what environment?
This will be a whole new chapter of my life, and for those who can keep up with it – I'll try my best to highlight this new adventure on my blog here. I will also have chances now to interview people in Hong Kong on my new Podcast – Global From Asia so it makes good content at the same time.
Here are some considerations:
Where Will My Child Be Born?
Being on a "border city" like Shenzhen, the consideration to attempt to have the baby across the bay in Hong Kong is a tempting one. Currently considering the points such as:
Hospital conditions
Doctor's handle and care
Child's "ID"
Currently plan is to deliver in Luo Ho district of Shenzhen.
As for citizenship, kid will be able to apply for a USA passport as I'm the father, so regardless if he/she is born in mainland China, Hong Kong, USA, or anywhere else.
Where Will MY Child Go To School?
Somewhat related to the above "Where my Child should be born" is also connected to the education. If born in Hong Kong, there is a pretty good educational system. Each time I cross the Shenzhen border around 7am, tons of children are lined up to commute (daily) into Hong Kong for their school.
I am also thinking about how the whole educational industry is being disrupted – and mobile apps – kids are learning like crazy from their mobile phones before they even enter school. And will the college system still exist when my kid is that age? I honestly think people will be working from any location – the whole "mass production" of college and then cubicle machine that exists today will be turned upside down in the future. Entrepreneurship is the future.
Though of course, its my kid's decision what he/she studies and becomes (though I pray its not in corporate!)
Many expats in Asia do return to their "western" world after the child is born for education mostly (from my own conversations I have been involved with over the years here)
The US educational system still seems to be the leader globally.
What Language (s) Will He/She Learn?
Wangxia wants the kid to speak Chinese. Well I do too – I do believe Mandarin will continue to be an important spoken tongue in this century as the Modern Chinese consumes more, travels more, and "expands their horizon" outside of Mainland China.
Of course English is a must too.
The language learned is also connected to the educational system he/she goes through.
Man, I'm open to suggestions here! Learning English from China is gonna be expensive! International school rates are sky-high.
What FOOD will he/she eat?
Well this is ALREADY a topic – as Wangxia is already changing her diet based on what she researches on BAIDU. Man, it kind of scares me. I don't really have much of an opinion here – though its gonna be weird if my kid doesn't like the same "cultural" western food that I enjoy when he/she grows up.
But this does connect to the blog photo I used today – imported baby milk powder – a hot topic here in China. Unfortunately…Chinese businessmen attempt to save money (increase margins) by skimping on raw materials or quality of goods, etc and it kills babies. So now tons of parents only by imported baby milk powder. And those who cross the Hong Kong / Shenzhen border over the past couple years can't avoid hearing the announcements and seeing the signs about the limit to 2 cans of baby milk powder per person else huge fines.
And we all see the mobs of Chinese maximizing that either having multiple people carrying 2 cans each, as well as roller bags jammed with all kinds of imported foods and goods from Hong Kong to Mainland China.
Is that gonna be me? I didn't end up buying these 2 cans in the photo today, but will I soon be another mainlander smuggling my baby's food into the motherland?