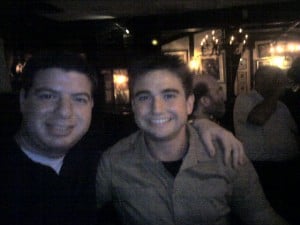 While I wish I could visit and see all my friends in America …this country is massive and as time passes friends and family move to different parts …..hometown friends, college friends, coworkers from NY, family moving to florida, roommates in California….
One of my entrepreneur friends I have always looked up to, Greg Schwartz, unfortunately I wasn't able to meet this trip (picture in this blog post is from NYC in 2007). He is currently in Michigan (central USA) and I have no plans to go there this short (3 week!) trip. He is a lucky husband and father now, working full time in the mobile app world.
How we met is really funny, he and I were "buddied up" during Deutsche Bank worker's first day orientation day August 2003 in New York City, paired to a seating section in a morning meet + greet exercise. From that day forward our strong friendship has developed. The next month we would be in DB's London training program and bond more. He was in IT, I was in operations (I should have been in IT, but I fought during the interview process to be moved). During dinner one night, I recall he revealed to me his startup, Mobatech, that had stemmed from his senior design project….It was a mobile app for J2ME apps and his first product was a Mobile Checkbook for people to balance their bank account while on the go.
I was immediately interested to get involved in any way I could. I was always planning to get into a startup, and my plan was to learn, save money, and build a strong resume at Deutsche Bank in the meantime. I was amazing we had not yet even started in our full time job and were discussing startups and entrepreneurship
AWESOME.
He was the one who noticed my sales and marketing strengths…I remember wanting to program the mobile apps, not as effectively, and instead he saw that I should work on the email list, the marketing efforts, sales channel development.
I started looking at the server logs, understanding how customers found the site online….which lead me to study SEO, this is early 2004.
I attended a conference to learn how to sell online…which with my roommate at the time, Andrew Moran, signed up for the program they were selling, not sure what to sell, which developed into New York Bar Store in Oct 2004….which I believe my regular blog readers and friends know how that story goes.
Greg also is a full time entrepreneur, back in Michigan, dealing deeply in the mobile app space.
Greg and I try to keep in touch, I was in his wedding in Chicago a couple years ago, we chat on when I'm in China, and push to do regular calls. This past week we got a call in…
Really, for me, IT WAS A WAKEUP CALL! He discussed a great new opportunity he is entering and that he is pivoting and focusing his first startup, mobatech, so that he can move to bigger and better things.
Also during the call, we talked about our friend Billy Chasen, who was his roommate and college friend from Michigan. Billy, Greg, and I always talked business, startup, internet…Billy would always be moving from one business to the next, building, learning, growing. I remember when Greg and I would work a bout Billy, changing his web project every couple months….talking about so many projects he was working on….building one, and to me, seems like he would dump it and move on so quickly.
Greg feedback ->> THE FACT THAT HE COULD DEVELOP CONCEPTS, TEST AND PIVOT QUICKLY WAS INCREDIBLE – TRUE LEAN STARTUP (http://theleanstartup.com/). TURNTABLE.FM WAS AN EPIC PIVOT.
WELL, BILLY DID IT!!!! Greg told me he is the founder of turntable.fm – that just got 7 million use funding from Union Square ventures at a 40 million dollar valuation! Amazing! He pivoted his last startup (the last one I knew of was sticky bits) and this was has just exploded to be an overnight success!!
I'm so happy for Billy….he is a passionate entrepreneur, never afraid to try something new. I haven't been in touch with him for a year or so, we had talked about me helping him manufacture a fingertip onto of a glove so you can use your iPhone in the winter, we had talked about a NYC club card to get discounts at bars and restaurants in NYC, tshirt design "I am away from my computer right now"
He just never gave up!
Greg and I are just so happy for him…I really just got that feeling of satisfaction "he did it"
And then I look at myself in the mirror and I think, I can do this too! I have to let go, keep moving forward, keep looking for what I can do that is gonna have a big effect. Not settle, not hold on.
Greg is doing that too, moving on to a new startup (I have to keep it private at this moment per Greg's request)
And knowing my 2 entrepreneur buddies doing it, I have to get myself back on track, back into gear, and catchup!
Greg's feedback ->> YOU CAN DO IT. YOU'VE ALREADY DONE MORE THAN MOST BY BUILDING THE BUSINESSES THAT YOU HAVE BUILT (NOT JUST TALKING ABOUT IT). YOU CAN DO IT AGAIN.
Motivated again!