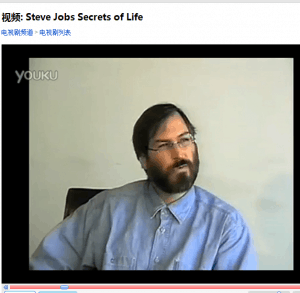 I love Sundays, its when I motivate myself for the week ahead. Think about what happened last week, and make an outline of the days ahead and the goals to accomplish.
Steve Jobs, every entrepreneur admires the legacy he left behind. I recently found a video (youtube link and Chinese youku video here that truly inspired me. I know a ton of people won't click the link to watch the video, so I wrote out the words Steve Jobs said below:
Steve Jobs: Secrets of Life

Steve Jobs on Life:
Next Comptuer center
1995

When you grow up, you tend to get told that the world is the way it is, and your life is to live inside this life and not bash into the walls too much, have a family life, save some money

that is a very limited life

life can be much broader
once you discover one simple fact
everything around you that is called life is made up by people that were no smarter than you

you can change it
you can build things

the minute you understand that you can poke life
push things, and things will pop out the other side, mould it.
that is the most important thing

you can shake off this irroneous thing
learn that you can embrace it, improve it, make your mark on it

that is very important

once you learn it, you'll want to change it, and make it better
because its messed up in a lot of ways.

and once you learn that, you will never be the same again
I got distracted writing this blog, as I kept watching more and more videos of Steve Jobs. Man, the vision he had.
I think we all listen to a speaker, or read a book, and apply it to our own lives. For me, personally, I feel a bit behind in my entrepreneurial progress.
I need to be:
bolder, man – I think maybe its because I'm in China, I'm "on the away team's field", not on my home turf, but I have to be more cautious about doing aggressive business. But I am getting bolder. And I have learned to focus better, and not fear being judged for failing.
I need to think bigger – Back when I first started my first ecommerce business in 2004, I didn't really think how big the market was, I just wanted to start my own business. And I made tons of mistakes with team building, and other decisions. But now its almost 10 years since starting my first business – I have learned so much – and I need to apply that for my benefit.
I need to let more people help me grow faster. I think more of Richard Branson (a href="http://venturebeat.com/2013/03/15/5-entrepreneurial-lessons-i-learned-from-richard-branson/#yX0gZdZXDk5KdhBZ.99″>amazing Branson interview here when I think about empowering others. I need to leverage this more. Delegate, trust. Find the right people. I am improving here
But man, Steve Jobs lives in, in our daily lives, and inspiring entrepreneurs like me. And man, that is amazing.
We cannot live life the way others want us to. We have to have the courage to stand up for what we believe in, and believe that we can change life and how people live.