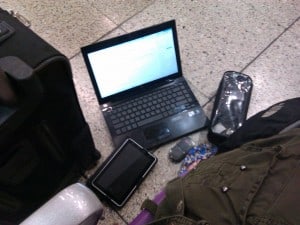 maybe its my turning 30, the fact that i have made commitments to my career and basic geographical location…and getting used to being in the constant moving….I am constantly having an internal battle about why I am traveling so much….its exhausting, but I think its important to what I'm trying to do….bridge cultures and connect people. Its the life I have created, and I just have to learn to live with it.
Its just becoming more clear…I want to develop social media, communities, I get the most fulfillment from that. I think it is the most difficult, and its also the best way for me to utilize the years I have struggled in China business….its the connections and the trust I have built in the meantime. Sure I may have made some mistakes, some people didn't agree with me, and I didn't agree with them, but that is life.
So many people see me as a business consultant. My Hong Kong accountant invited me to be an advisor on their accountant association, I met with him and his partner last week. I'll have to make some presentations about USA business, and they have a decent amount of members in the UK. More on that later as I confirm it and learn more myself. But it just feels so rewarding to be asked to be part of these clubs….and I have no problem connecting more people once I get familiar.
Just as an example of how I am getting more equipped for international business…I am typing this blog at 4:53pm on Sunday, awaiting the 5:50pm train from Hong Kong to Guangzhou. I'm in the waiting queue, and holding my laptop against my thigh to type it as I'm standing up. (I try to blog from my tablet, but the touch screen just doesn't work for long passages, at least not for me).
I have 2 3G wifi hotspots one for Hong Kong and China, a tablet for China (its also a phone), an android phone for Hong Kong, emergency power packs (these train stations NEVER have electricity power outlets!!!!!!) so many wires and adapters for different power outlets…I'm a walking office.
So I have 3 choices:
I can complain and cry about it – Some people may feel this is what this blog is about, my crying and complaining about my personal hardships in dealing with a small business overseas in China / Asia. Well, maybe it does help me to "talk outloud" and share my feelings…its soothing in its own sick way. Come on, what do people like to write about, and read about…its problems, struggles, passionate fighting for something, a cause.
I can change it – I could say "I don't want to do this anymore", go back to get a dayjob in America…I see this is giving up, and I have survived this far. Not something I can accept. We only have one life to live, if anything I hope to write a book about this, its definitely been an adventure.
I can deal with it – I think after returning to Asia late last year…taking the return ticket to Hong Kong I knew in the back of my head I wouldn't be coming back to America so soon. Sure, I thought to myself I can always come back to America if I don't feel right coming to Asia again…but the opportunities are in China. Things are growing, things are happening here….its just hard to partake in it as a foreigner….but I will not give up.
So as I wait in the Hung Hom Hong Kong train station to go to Guangzhou, I just realize that I have to accept the fact that….things will forever be changing, I cannot fully control, and I just have to accept it and make it work.
Another post coming soon comparing myself a few years ago to now.