Have you been looking lately to get your WooCommerce open source ecommerce store transported to your favorite social media platform? The newly released WordPress Plugin called Facebook Store gives you the enviable power to import your e-store to the world's largest social community within the blink of an eye without any hassle. Taking a sneak peek at the business paradigm that has been so successfully adopted by Facebook, it becomes quite evident that they keep a close eye on the user's inclinations. This is accomplished by pursuing a vigilant and careful analysis of the content produced by the user. Based on these trends, patterns and predilections, specific advertisements are targeted towards the users with wonderful precision.
Generally, users toil hard, spend hours and hours out of their immensely hectic routines and fight tooth and nail to keep their pages buzzing and humming with freshly baked content. All this hard work is flushed down the drain by Facebook which decides to award no prizes whatsoever to the page owners for doing their work so diligently.
Can You Monetize Your Facebook Page?
This brings to the fore the question of how to make money through your Facebook page. Is it really possible? Well, it absolutely is and now you can get your magnificent effort rewarded real quick and easy. You just have to position your Store tab on your Facebook page and off you go. The visitors who scour your page on Facebook will be highly likely to give a tap to your Store button, have a look at what your online store has to offer and purchase your products on display if they gain their attention.
So, yes folks! This is the right time to make use of your Facebook page to make a few bucks. The Facebook Store will help you out in converting your visitors to your Facebook page to loyal customers and subsequently proud brand ambassadors who not only buy goods from your store but also spread the word in their surroundings. As far as the outlook of the Facebook Store plugin is concerned, it has been designed to be integrated flawlessly into the Facebook interface so that your users are immersed in a distraction-free, absorbing and soul-entrenching digital experience.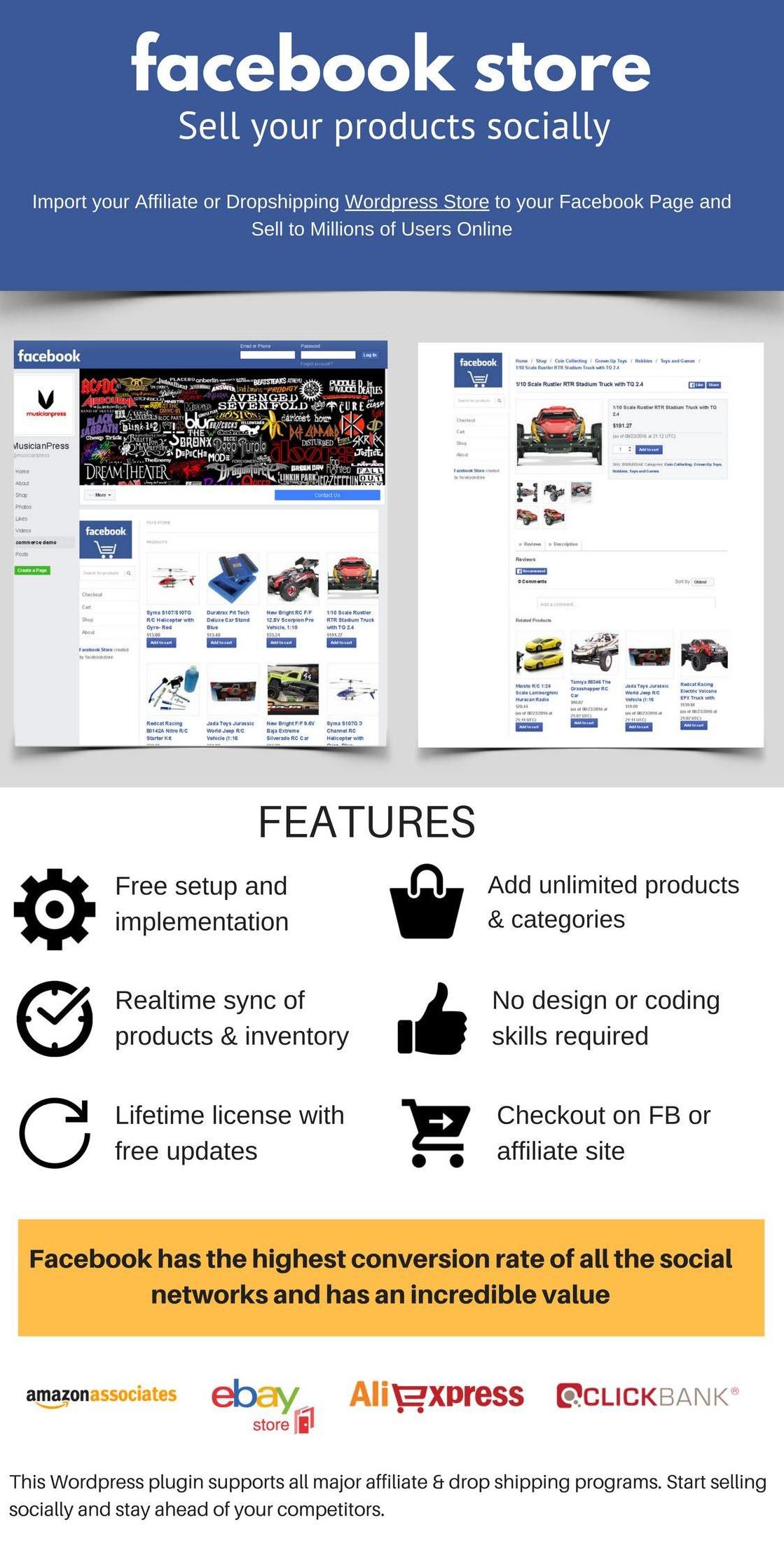 Facebook Store is as Simple as it can Get
What's more you ask? Facebook Store is completely functional with the majority of the WordPress themes to have hit the shelves. So, now is exactly the time when you should pull up your socks and get yourselves ready to take your online business to unprecedented heights of splendor. If you are the owner of an associate or affiliate website such as Amazon affiliate store or some other product review website, then you can get ahead of your competitors by importing your website to Facebook through our plugin which ensures seamless integration into the social media platform.
The Final Word
The point of your ecommerce store, after all, is to convert your traffic into sales and Facebook Store provides the best possible solution to monetizing your Facebook page. Facebook is the world's biggest enterprise that seeks to make money out of ecommerce stores by giving access to markets all over the world. Click here to grab this plugin.