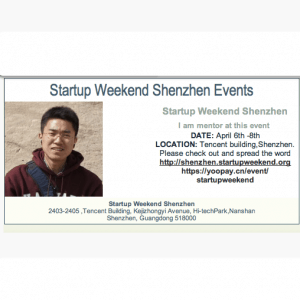 Been tons of action happening with this weekend's upcoming Shenzhen startup weekend. We have Caidy, from the Shanghai startupweekend team, flying down tomorrow, we have lots of visitors from all over the world stopping by. Its at the same time as the Shenzhen Maker faire, but like people have been saying, its all making sure Shenzhen is on the map for startups and entrepreneurship. I have always dreamed to be surrounded by quick, fast acting new business – and its happening, so exciting.
Today
– 38 paid applicants; // about 4 foreigners
– 35 unpaid applicants (on wufoo); // already sent email telling them how to pay

We need:

– 40 more paid attendees; // including re-marketing among unpaid applicants
– about 5 more mentors;
– about 1 confirmed judges;

food sponsor from nogogo is getting settled. Tencent is on board for the venue, need to confirm if we can eat on-site. SVB, Silicon Valley Bank is on board as a sponsor. Dot Co is a USA sponsor contacting us for the Shenzhen weekend.
I'm also getting tons of emails from all kinds of people these last few days. It was tomb sweeping holiday the last couple days in China…so we had not taken that into account when we were planning this startup weekend.
Anyway, we're really excited, and I'm blogging again more information. Hope to see more people there, and i'll be blogging through the weekend.
Startupweekend Introduction
Brainstorming… Prototyping… Demo!
Startup Weekends are 54-hour events where developers, designers, marketers, product managers and startup enthusiasts come together to share ideas, form teams, build products, and launch startups!
100+ attendees are expected to come for the Shenzhen/ Guangzhou event, half of which have technical backgrounds and the other half have business backgrounds.
In the past 2011, Startup Weekend hosts 260 events in 202 Cities around the world with 21,316 attendees. 2817 teams were formed and totally raised $30M+ in funding. It"s attracting more and more eyeballs from online and offline startup communities to main-stream medias like New Financial.
Startup Weekend Schedule
Day One: Friday Action
17:00 – 19:00 Registration & Networking
19:00 – 19:30 Welcome & Speakers
19:30 – 21:00 Pitch your idea!
21:00 – 21:30 Vote on ideas
21:30 – 22:30 Teams form (1h)
22:30+ Stay or go home
Day Two: Saturday Action
9:00 – 9:30 Breakfast
9:30 – 12:00 Work on idea, Progress check point #1
12:00 – 13:00 Lunch
13:00 – 18:30 Work on idea, Progress check point #2
18:30 – 19:30 Working dinner
19:30 – 22:30 Progress check point #3
22:30+ Stay or go home
Day Three: Sunday Action
9:00 – 9:30 Breakfast
9:30 – 12:00 Work on idea, Progress check point #4
12:00 – 13:00 Lunch
13:00 – 17:00 Work on idea , Progress check point #5
17:00 – 18:00 Prepare for presentation & Room Clean-up
18:00 – 20:00 Presentation
20:00+ Judging and Awards, Dinner, Networking
* Schedule applies to both Shenzhen & Guangzhou events
Buy Ticket (RMB 150):https://yoopay.cn/event/startupweekend
•Your ticket covers seven meals, snack, t-shirt, etc.
• Contact us if you have any question: Michael Michelini, 15816859376, site@michaelmichelini.com
See Previous Photos: http://weibo.com/startupscn
Past Projects
What Dish 什么菜- Shenzhen, 2011
A mobile app that automatically translate Chinese menus into English.
Family Book 家族谱- Shenzhen , 2011
A website help Chinese families build up their cultural backgrounds and share online to
continue to unify their family history.
Futouban 斧头帮- Shanghai , 2011
Mobile app help find coupons.
Meibao 美包 – Beijing , 2011
E-commerce website follows the luxury rental model, but for luxury handbags and purses.
TukeQ 途客圈 – Beijing , 2011
Touring website, now accepted into Innovation Works.
Mentors & Judges
We're very proud of the list of mentors and judges we've assembled for Startup
Weekend. They bring a wealth of knowledge about doing business in China and
all have had considerable success here over the years.
List for the coming Shenzhen & Guangzhou event hasn't not been confirmed yet. But here's some random faces from past events:
Phil Xie -Shenzhen 2011
VC, MorningSide Venture
Michael Bellamy –Shenzhen 2011
Chairman of Advisory Board, CSIC
Boyd Jones –Shanghai 2011
Partner, Co-Power Venture Capital
Xing Wang -Beijing 2011
CEO, Meituan.com
Benti Xie –Shenzhen 2011
Angel Investor
Fritz Demopoulos -Beijing 2011
CEO, Qunar.com